2011 Indianapolis AMA Supercross Results
Chaparral Motorsports
|
March 14, 2011
2011 AMA / FIM World Championship Supercross series round 10, Indianapolis, IN race results/recap: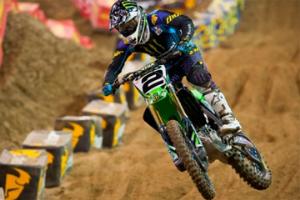 Villopoto continues his winning ways

Ryan Villopoto continued his dominance of this year's AMA Supercross season in Indianapolis this weekend, notching his third straight victory and fifth win of the season overall.

In the two previous races, Villopoto was able to take advantage after James Stewart crashed. He needed no help from Stewart's misfortune this time, as Villopoto put in a dominant performance, with a wire-to-wire win over twenty laps, finishing with a 6.3-second lead over Stewart in second.

Villopoto now has a 26 point cushion over Stewart in the series, which is significant because it means Villopoto could drop out of a race or crash and still be able to maintain his lead over the Yamaha rider. Still, Villopoto isn't etching his name on the gold just yet.

"There are still a lot of laps left to race in this series," said Villopoto. "I'm not even thinking about the championship at this point. Right now I'm just enjoying the victory. To get one Supercross win in a season is a major accomplishment and to have five so far this season is nearly unbelievable to me."

Third and fourth place in the race went to Chad Reed and Ryan Dungey, who also occupy those same positions in the overall point standings.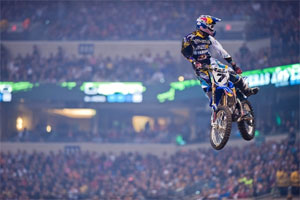 Stewart on the podium at Indianapolis

James Stewart returned to the AMA SX podium last weekend after his recent misfortune in Daytona and took second place at the tenth round of seventeen held at the Lucas Oil Stadium in Indianapolis packed with more than 60,000 spectators.


The San Manuel Yamaha rider guided his YZ450F through the field after a poor start and some inconsistent laps in the opening phases of the main event. He was able to overtake rival Chad Reed for second place but then faced an insurmountable distance to Ryan Villopoto who would go on to win by six seconds. The Floridian now faces a home meeting next Saturday.


"It's really frustrating because I know I can win but I'm just not winning right now," he said. "Something always happens. It'll make a big difference next weekend to sleep in my own bed before the race, so hopefully I can put it all back together in Jacksonville. I just feel like I let my whole team down tonight. I was 'off' all night long."


JGR Yamaha's Justin Brayton was 5th by the finish line with Nick Wey the third YZ450F rider in the top ten with 8th. Brayton's team-mate, Davi Millsaps, collected 11th.


A YZ250F made it to the top of the podium for the first time this season as the fourth race of the East Coast Lites division belonged to Ryan Sipes who posted his maiden victory at Indianapolis. The DNA Star Racing Yamaha rider was obviously at home on the testing layout as he headed the practice sessions and then won his Heat sprint. A tussle with Blake Baggett and then Justin Barcia after the former crashed at mid-distance ensured that the American's success was hard-fought and well deserved. "I always wondered what it would feel like to win," he said. "I thought I knew what it would be like, but I've got to say, it's a lot better than that! I'm so happy. I knew I was fast tonight and I just tried to race forward and not think about who was behind me and it worked! I'm pumped!" Sipes is third in the Lites table and 12 points behind Barcia.


Stewart is second in the SX standings, trailing Villopoto by 26 points. Brayton is 7th and Millsaps 8th. Round eleven will be hosted by the Jacksonville Municipal Stadium next Saturday.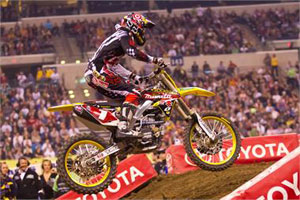 Dungey fourth after Indianapolis SX Crash

Rockstar Makita Suzuki's Ryan Dungey raced back to fourth place after crashing during Saturday night's 10th round of the AMA/ FIM Supercross Championship at Lucas Oil Stadium in Indianapolis.


The defending Champion gated in third and was challenging Chad Reed for third half-way into the 20-lap Main Event, but the pair collided and Dungey went down.


Dungey rode solid in practice and his heat race, crossing the line in fourth place. His Suzuki powered him out of the gate in the Main and put him right up to the front - in fourth position. He worked his way up to third by lap two and maintained that position until the ninth lap, where he attempted a pass for second and went down after making contact with the second-place rider. Dungey remounted in fourth and made a hard charge on his RM-Z450, eventually catching back up to third, but was unable to make the pass and settled for a fourth-place finish.


"This was a tough one tonight," said Dungey. "We worked throughout the day to get the Rockstar Makita Suzuki just right for the Main Event: I mean, the bike was good tonight, but I didn't get the holeshot and lost sight of the lead. I got up to the back of Chad Reed and clipped his back tyre while trying to knife-under and went down. He checked up, and the next thing I knew I was losing my front end. I got back up and closed on him again with, I think, two laps to go. I tried putting a couple passes on him on the last lap but never quite got it to stick. Jacksonville is next week and it's time for a win."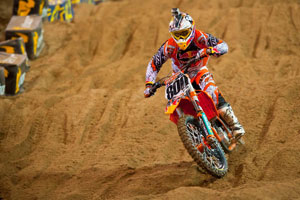 Alessi Earns 10th at Indianapolis Supercross

Red Bull/KTM Factory Team rider Mike Alessi earned 10th overall at the tenth round of the AMA Supercross Series at the Lucas Oil Stadium in Indianapolis, IN.


Alessi and his teammate Andrew Short were both placed in heat one. Off the start both riders were in the top ten. Short worked his way up to 5th place to earn a great gate pick in the main event while Alessi took the final transfer spot with a 9th place finish.


The main event did not go so well for Short. He had a bad jump off the line and came around the first corner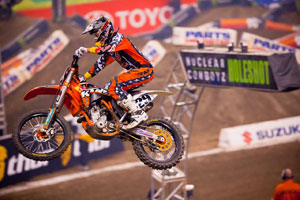 near the back of the back. A few turns later he suffered a mechanical problem and was unable to finish the race. His teammate, Alessi, carried on rounding the first lap in 15th position. He moved up two positions on the next lap to take over 13th place. He continued to maintain his pace as the race progressed and by the halfway point had picked up two more positions. With only two laps to go he was able to capitalize on a mistake by another rider and picked up 10th overall for the night.


"I am happy to finish inside the top ten tonight. This course was definitely challenging and I felt like everyone had a couple close calls tonight as we tried to pick up the speed on the course. I am excited about my consistency to finish inside the top ten but would like to move my focus toward the top five for the second half of this season," stated Alessi.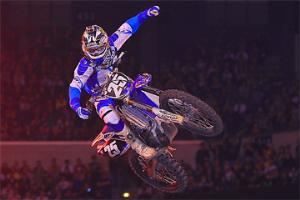 Sipes wins in Indy thanks to Baggett crash

Ryan Sipes needed a little luck to win his first AMA Supercross Lites race, but you won't hear him complaining.

Sipes is traditionally one of the fastest riders in qualifying, but always seems to come up just short in his races. That wasn't the case over the weekend in Indianapolis, as Sipes was able to take advantage of a late crash by Kawasaki competitor Blake Baggett in order to snag his first win.

Baggett appeared to have the win and the lead in the point standings well in hand, but he crashed after a jump on the final lap. That allowed Sipes, who had been on Baggett's tail all day, to sneak past him and get the victory. Honda's Justin Barcia also raced hard after the crash and ended up in second place. Meanwhile, Baggett was able to recover and take third.

Had Baggett been able to recover a bit quicker, he might be on top of the Lites East standings right now. As it stands, Barcia now holds a six-point lead over the Kawasaki rider. Sipes' win catapulted him up the standings, and he now rests six points behind Baggett in third place.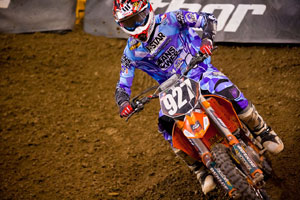 Larsen Finishes 8th at Indianapolis Supercross

JDR/J-Star/KTM rider PJ Larsen earned 8th overall in the East Supercross Lites class at the Indianapolis Supercross held at the Lucas Oil Stadium. His teammate, Tye Simmonds, finished 16th overall in the Supercross class.


The night started out horribly for Larsen who had a wreck on the first lap of his Lites Supercross Heat. "I came out 3rd around the first turn and was sitting in a good position and the next thing I knew I was on the ground," stated Larsen. "I have no idea exactly how I crashed I just remember seeing the air, hitting the ground and then being ran over a few times in the second corner." Larsen and his bike were a little banged up after that crash and he did not finish the heat race.


Larsen was forced to go to the LCQ where he got a poor start. He quickly moved up through the pack to move into 2nd place. He finished in that spot taking the final transfer spot to the main. "I was lucky I was able to move through the pack quickly in the LCQ. It was a bit of a bar-banging race but in the end I was able to make it to the main event."


When the gate dropped for the Lites main, Larsen put together a great start and was within the top five as they entered the first turn before getting pushed wide resulting in a 7th place position at the exit of the turn. Larsen remained in 7th through the remainder of the first lap before jumping up to 6th place after Hunter Hewitt crashed on lap two. Near the middle of the moto, Larsen began to tire slightly as he has been fighting a stomach virus lately. He dropped two positions to Blake Wharton and Dean Wilson. He held 8th place from the tenth lap through the finish to earn a top ten result.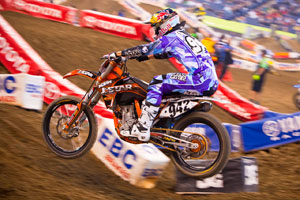 In the Supercross class, Simmonds was able to put in a solid heat race performance finishing 6th overall. "My heat went really well. I nearly grabbed the holeshot except my tire washed slightly and I went wider than I should have in the first turn," commented Simmonds. He came through the first lap mark in 6th and maintained that position throughout the entire heat.


In the Supercross main event, Simmonds was able to get a mid-pack start and sat in 12th around the first corner. A few corners into the race, a rider crossed in front of him off a jump sending Simmonds to the ground. When Simmonds recovered he had lost a lot of time and was sitting in last position. He spent the first few laps of the race catching up to the tail end of the pack and was not able to make his first pass until part way into the moto. He eventually worked his way up to 16th where he finished for the night.

Supercross Results

1) Ryan Villopoto

2) James Stewart

3) Chad Reed

4) Ryan Dungey

5) Justin Brayton

6) Trey Canard

7) Kevin Windham

8) Nick Wey

9) Cole Seely

10) Mike Alessi

11) David Millsaps

12) Matt Boni

13) Michael Byrne

14) Fabien Izoird

15) Matthew Goreke

16) Tye Simmonds

17) Bobby Kiniry

18) Chris Blose

19) Ivan Tedesco

20) Andrew Short

Supercross Lites Results

1) Ryan Sipes

2) Justin Barcia

3) Blake Baggett

4) Malcolm Stewart

5) Matt Lemoine

6) Dean Wilson

7) Blake Wharton

8) PJ Larsen

9) Alex Martin

10) Les Smith

11) Gannon Audette

12) Brad Ripple

13) Taylor Futrell

14) Ricky Renner

15) Michael Akaydin

16) Nico Izzi

17) Tyler Sjoberg

18) Jason Anderson

19) Shawn Rife

20) Hunter Hewitt

Overall Supercross Point Standings

1) Ryan Villopoto - 221

2) James Stewart - 195

3) Chad Reed - 192

4) Ryan Dungey - 183

5) Trey Canard - 169

6) Andrew Short - 129

7) Justin Brayton - 121

8) David Millsaps - 114

9) Brett Metcalfe - 107

10) Kevin Windham - 103

Overall Supercross Lites Point Standings

1) Justin Barcia - 91

2) Blake Baggett - 85

3) Ryan Sipes - 79

4) Dean Wilson - 75

5) Blake Wharton - 65

6) Malcolm Stewart - 52

7) Matt Lemoine - 51

8) PJ Larsen - 46

9) Jason Anderson - 44

10) Alex Martin - 40