Ben Spies' Other Hobby
Chaparral Motorsports
|
March 10, 2011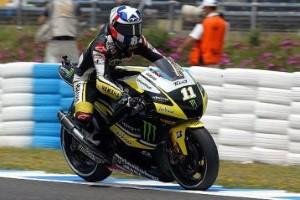 Ben Spies is well known the world over as one of the top competitors in MotoGP, where he rides for the factory Yamaha team. Yet Spies does not restrict his competitive edge to motorsports only: he loves all things on two wheels.

In the offseason, Spies is an avid cyclist, and even races at a competitive level - much like he does in MotoGP. Spies owns his own team, Elbowz Racing Elite Cycling Team, and competes in the races when they don't conflict with his hectic professional schedule.

This past weekend, Spies put in an appearance at the La Primavera at Lago Vista road race in Austin, Texas, and was actually able to place sixth in the first of two races. However, Spies told Cycle News that the energy expended in that competition kept him from racing to his full potential on Sunday, and he only made it through 2/3 of the race before calling it quits - an impressive feat considering many others had long since packed it in at that point.

Spies told the news source that he was tired after the harsh race, but would be ready to go for the upcoming test in Qatar.

"I'll go pack and hang out with all the friends for a few days," Spies said. "Recover from this weekend. Have a couple little workouts and cruise to Qatar and get ready to go."