2011 Rizla Suzuki MotoGP Machine Revealed
Chaparral Motorsports
|
March 10, 2011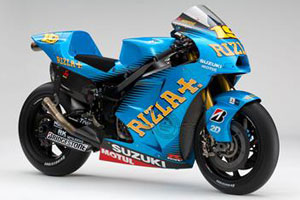 The 2011 Rizla Suzuki GSV-R today makes its worldwide premiere in its new livery.

The machine, which Alvaro Bautista will be riding in this season's MotoGP World Championship is the final generation of the 800cc GSV-R four-stroke prototype, due to the change in capacity-limit to 1000cc next season. The latest - and most technologically advanced version of Suzuki's MotoGP - challenger features an engine that has improved on its horsepower, driveability and durability through many detailed development changes throughout winter and pre-season testing. It also features improved acceleration characteristics - especially out of slower corners - to assist Bautista in his challenge for MotoGP glory.

To compliment the upgraded engine specifications, Suzuki has also improved the chassis performance by significant developments to the stiffness balance of frame and swing-arm and has optimised the weight-balance geometries from last season's machine: These updates to the chassis have been paired with the most-advanced ECU software ever used on a Suzuki Grand Prix machine to give Bautista more precise traction and wheelie-control without losing direct machine control or power; adding to the versatility of the GSV-R in all conditions.

The 2011 Rizla Suzuki GSV-R also features revised Troy Lee Designs-inspired livery; incorporating a new, contemporary and dynamic Rizla logo that will be launched by the Rizla Suzuki MotoGP team.

The 2011 Rizla Suzuki GSV-R will make its official debut during this weekend's final pre-season test at Qatar, before making its racing debut - also at Qatar - on Sunday March 20th.