Husky Has Winning Weekend
Chaparral Motorsports
|
March 8, 2011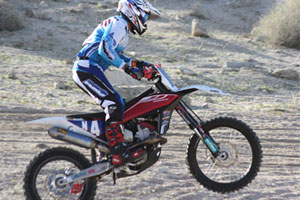 The Zip-Ty Husqvarna team took the strategic advice of Caesar as they divided and conquered multiple races this past week. On Saturday, Jamie Lanza and Cory Graffunder teamed up to totally dominate the field at the Big 6 EnduroCross Challenge at Glen Helen, while Nick Burson and David Kamo paired up for a podium finish at the Best In The Desert Laughlin Hare Scrambles on a showroom stock Husqvarna TXC449. But that was just for starters as the racers scattered to even more events on Sunday, including the highlight of the weekend as 4-time defending U.S. Desert Racing champ Burson won the first round of the 2011 USDR series in Ridgecrest, CA going away!


"David Kamo and I raced the BITD Hare Scrambles in Laughlin, Nevada on Saturday... it was a good day with solid rides from both of us," notes Nick. "Conditions were good, and the dirt was still damp, so traction was great. We finished 3rd Overall on my practice bike, which was a good finish and we gained valuable championship points." Kamo adds, "we usually use my Hare & Hound bike for the BITD races, but I had to race it Sunday in El Centro so it was a good thing Nick's practice bike was race ready. We both had to do three 18 mile loops apiece. After a 7th place start, we worked up through the field and we had zero problems with the bike throughout the race."


"After the race we parted ways with David headed for the National Hare & Hound round in El Centro while I headed to Ridgecrest for round #1 of the USDR series," explains Burson. "The way its working out, Kamo and I will do all the Best In The Desert events together, including the Silver State 300." Meanwhile Sunday was an even better day for Burson on his race bike in place of his trusty practice bike.


"I got a great jump on my race-prepped TXC511 and took the holeshot! From there I felt comfortable and opened up a 20-second lead on the first lap," says Nick. "I kept increasing my lead on each lap to win with a gap over 2 minutes. I'm excited we had a good weekend for the entire team and I'm looking forward to improving our results throughout the year." Despite being busy racing all weekend, Nick still managed to find time to watch the Daytona SX race give a shout-out to the unsung hero of the weekend, his dad David. Nick posted a picture to Facebook of his Dad sacked out sound asleep in the middle of the Supercross race.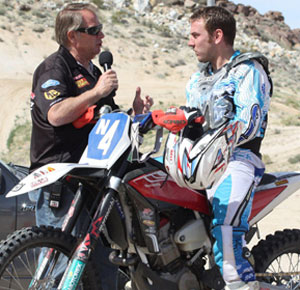 "It was a hard weekend by Saturday night!" says the good-natured David Burson. "I spent Friday at Zip-Ty's prepping Nick's practice bike for Saturday's race at Laughlin (David put in a lowered linkage on Nick's stock TXC449 practice bike and upgraded the exhaust to an FMF Factory 4.1 pipe with a Mega Bomb header), then drove to Laughlin, NV and got up at 5 a.m. The race started at 7 a.m., was over at 11:30 p.m and we were on the road back to Ridgecrest. Arrived in Ridgecrest at 3:30 p.m. just in time to stop at the USDR race site to make sure we were signed up for Sunday's race. Drove home and then prepped the race bike for Sunday. Sat down for the first time and turned on Supercross and fell asleep for a few minutes... what can I say?"


While the Burson family was watching Supercross between races, the teammates Jamie Lanza and Cory Graffunder were at Glen Helen putting the finishing touches on a perfect day at the Big 6 Endurocross Challenge on Saturday. "I'm pumped to get my first win on a Husky," says Lanza. The Big 6 event featured a unique three-moto format to determine overall position... which didn't really seem to matter to Graffunder, who grabbed all three holeshots on the day!


"After Cory holeshotted the first moto, I worked my way into second," Lanza adds. "Halfway through the race, Cory stalled his bike in a tight spot, so I took the win with a comfortable lead. Cory holeshotted again in the second moto and I was in third off the line and moved into second knowing that two seconds for me would secure the overall win." Graffunder grabbed yet another holeshot in the third moto, saying "the CTS system on the new Husky really works." Lanza agreed as he followed his teammate off the line in second, content to cruise to the overall win. "Cory won the final moto and I finished a mistake-free second," Lanza says. "My 1-2-2 moto tally was enough to take the overall win just ahead of my teammate."


"I started out a little slow on my new TE511 race bike to get a feel for it," says Kamo. "I didn't get a very good start and was about 30th for most of the high speed 60 mile first loop of the Hare & Hound. I made my way up to about 9th at the alternate gas where my mom was. By the time I got to the main pit I was running 7th, got goggles and fuel and was off! I ended up 6th overall and was super-pumped to finish a National H&H! Thanks to Ty Davis and Steve Foster for making it happen!"


"As they might say back at the factory, vidi, vinci, veni," says Husqvarna North America's National Marketing Manager Corey Eastman. "Husky came, they saw and they kicked ass!"