Borich Wins River Ranch GNCC
Chaparral Motorsports
|
March 8, 2011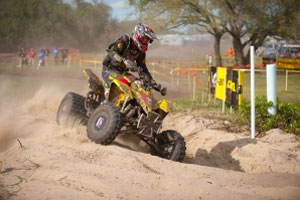 Chris Borich took the first step towards adding a third GNCC title to his résumé today by winning the opening round of the 2011 Can-Am Grand National Cross Series at the Moose Racing Westgate River Ranch event, near River Ranch, Florida.


Last year, Borich won 11 of 13 rounds to claim the 2010 title, and this year the Yoshimura Rockstar Makita Suzuki rider picked up right where he left off, using a strong final lap push on the rough and sandy course to take the opening round victory over Ballance Racing Yamaha's Taylor Kiser and Warnert Racing Can-Am Foremost Insurance's Chris Bithell.


"This is a good win for us," said Borich. "We got the lead on the last lap and I put the hammer down and tried to pull a gap. I can't thank my team enough. For sure, it was a team effort and a good win."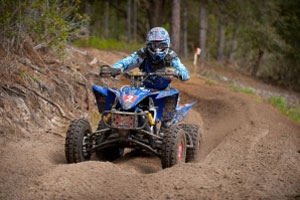 All three podium finishers benefitted from a last lap encounter with a barbed wire fence by Warnert Racing Can-Am Foremost Insurance's Adam McGill. McGill took the lead on the second lap of the two-hour, six-lap race, and held it until just after the start of the final lap when he crossed through a gate on the course and got tangled up in part of the old fence that had been kicked up by another rider. The fence wrapped around McGill's bike and put him on the ground, allowing Borich, Kiser and Bithell to go by.


"It's unfortunate what happened to McGill, he was going pretty good," said Borich. "But I was right on his tail and he was getting kicked around pretty good in the whoops and that's where I felt the best. I thought I could get by him there and I was setting him up for a pass, but then he had his problems."


Kiser came from near the back of the field after getting off to a mediocre start, but managed to find his way into the top three heading into the final lap. And when McGill went down, Kiser inherited second. The Florida rider was philosophical about his runner-up finish.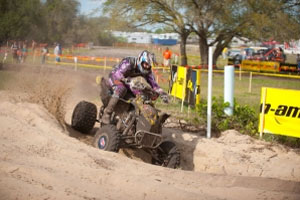 "It's not a win but we came away with some points," said Kiser. "I spent too much energy at the start of the race and I got tired there at the end. This is a tough race, for sure, and I'm happy to get what we got."


Like a lot of racers, Bithell came into the Florida round just hoping to come away with some points and leave town healthy due to the rough nature of the course and he was understandably happy with third.


"I think this was the toughest Florida track we've ever had - it was brutal," said Bithell. "But I got a decent start and I took my time and it paid off. I really wanted to get a podium today and then turn it up for the rest of the season, so this is a good start."


McGill settled for fourth after his mishap with the fence on the last lap.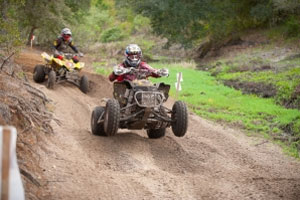 "I got into the lead at the end of the second lap and behind the pits there's a section of track where they cut the fence and we go through it," said McGill. "Some barbed wire got kicked out and it caught my front tire and I ended up going over the bars. That's racing, and I'll just get back to business next week in Georgia."


FRE KTM's Bryan Cook led the opening lap of the race, and then settled into a pace that eventually carried him to fifth. "I just found a pace that would work for two hours and not kill my hands," said Cook. "We race again next week in Georgia, and this is a good finish for us with just one week's rest coming up."


Sixth went to Honda rider Jarrod McClure, who pressured Cook on the final lap but couldn't find the room to pass. Meanwhile, Donnie Ockerman put his Jet Suspension-backed Honda into seventh after running in the top 10 for most of the day.


Yamaha rider Johnny Gallagher was eighth ahead of XC1 rookies Kevin Yoho (Yam) and Brian Wolf (Hon).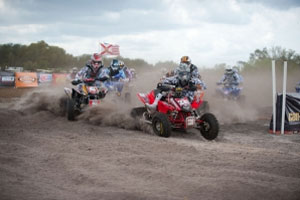 Honda-mounted Sloan Jackson started the race on a good note by taking the Motosport.com Holeshot Award and then settled into 13th by the end of the race.


After battling for most of the race with Gabe Phillips, Walker Fowler found a second wind on the final lap to take the win in the XC2 division. After a strong final lap, the Ballance Yamaha Racing-backed rider took the checkered flag with almost two minutes to spare over Phillips, while Eric Hoyland finished third, another seven-and-a-half minutes back.


"I played it smart instead of fast and I think that paid off," said Fowler. "I caught Gabe and we were rolling pretty good. I passed him and then I think he passed me back. Then I took the lead and tried to put some time on him and I looked back and he was still there. At that point I realized it was going to be a long day."


KTM rider Aarol Bright was fourth ahead of Honda-mounted Dustin Canipe. Meanwhile, Robert Cornwell (Yam), Nathan Wallpe (Hon) and Patrick McGuire (Yam) finished sixth, seventh and eighth.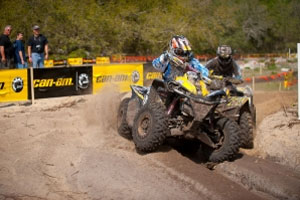 Blake Kramer (Suz) and Michael Lancaster (Hon) rounded out the top 10.


In the A.M. race, Tennessee racer Michael Swift took the overall, topping second place finisher Dave Simmons by over four minutes. Swift also won the Open 4x4 division, beating out fellow Can-Am rider Richard Cecco.


"I'm just glad it's over," said Swift. "I did my homework over the winter and, to be honest, I've been dreading this day, but I couldn't ask for a better race."


Clifton Beasley was third overall and first in the U2 division, while Can-Am racer Lexi Coulter beat out Angel Atwell and Yamaha-mounted Traci Cecco to win the Women's division.


After leading four laps of the five-lap race, Hunter Hart took the overall win in the youth race over Cody Collier to kick off what will surely be an exciting season in the youth divisions. Collier took the lead at one point in the race but dropped off the pace after suffering problems. Meanwhile, Zachary Jones claimed his first-ever podium finish with a third.


Bike practice will take place tomorrow at the Westgate River Ranch GNCC with a full slate of motorcycle classes racing on Tuesday.

XC1 Results:

1. Chris Borich (Suz)

2. Taylor Kiser (Yam)

3. Chris Bithell (CAN)

4. Adam McGill (CAN)

5. Bryan Cook (KTM)

6. Jarrod McClure (Hon)

7. Donnie Ockerman (Hon)

8. Johnny Gallagher (Yam)

9. Kevin Yoho (Yam)

10. Brian Wolf (Hon)

XC1 Standings:

1. Chris Borich (30 points/1 win)

2. Taylor Kiser (25)

3. Chris Bithell (21)

4. Adam McGill (18)

5. Bryan Cook (16)

6. Jarrod McClure (15)

7. Donnie Ockerman (14)

8. Johnny Gallagher (13)

9. Kevin Yoho (12)

10. Brian Wolf (11)

XC2 Results:

1. Walker Fowler (Yam)

2. Gabe Phillips (Yam)

3. Eric Hoyland (Hon)

4. Aarol Bright (KTM)

5. Dustin Canipe (Hon)

6. Robert Cornwell (Yam)

7. Nathan Wallpe (Hon)

8. Patrick McGuire (Yam)

9. Blake Kramer (Suz)

10. Michael Lancaster (Hon)

XC2 Standings:

1. Walker Fowler (30 points/1 win)

2. Gabe Phillips (25)

3. Eric Hoyland (21)

4. Aarol Bright (18)

5. Dustin Canipe (16)

6. Robert Cornwell (15)

7. Nathan Wallpe (14)

8. Patrick McGuire (13)

9. Blake Kramer (12)

10. Michael Lancaster (11)


Motosport.com $250 XC1 holeshot - Sloan Jackson


Motosport.com $100 XC2 holeshot - Eric Hoyland

About GNCC Racing:

The Can-Am Grand National Cross Country Series is America's premier off-road racing series. Founded in 1979, the 13-round championship is produced exclusively by Racer Productions. Cross country racing is one of the most physically demanding sports in the world. The grueling three-hour GNCC races lead as many as 1,800 riders through tracks ranging in length from eight to 12 miles, competing for more than $3 million in prizes. With varied terrain, including hills, woods, mud, dirt, rocks and motocross sections, GNCC events are tests of both survival and speed. For more information, please visit www.gnccracing.com.

Photos: Shan Moore