2011 Daytona AMA Supercross Results
Chaparral Motorsports
|
March 7, 2011
2011 AMA / FIM World Championship Supercross series round 9, Daytona, FL race results/recap: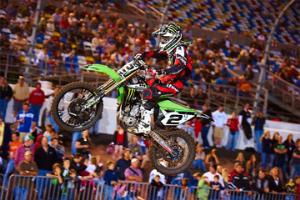 Villopoto once again capitalizes on James Stewart's mistake

There's no denying that Ryan Villopoto is a talented supercross racer, but racing officials could be forgiven if they checked his leathers for some four-leaf clovers.

Last week at the AMA Supercross race in Atlanta, Villopoto was practically handed the win on the final lap when Chad Reed and James Stewart, the two front runners for the entire race, collided just shy of the finish line, allowing Villopoto to take the win.

This week's competition in Daytona wasn't quite as dramatic, but Villopoto once again benefited from James Stewart's misfortune, as the rider went down in a nasty crash on lap four after grabbing the lead. The crash was so bad that Stewart had considerable trouble locating his bike after getting up.

Still, Villopoto's win wasn't a gift. The rider has been racing hard all year and its very possible that he would have passed Stewart without the assistance. He also held on to the lead for the remainder of the race, gaining enough of a cushion on the other riders that he was even able to make a few mistakes without losing serious ground.

Stewart was eventually able to recover and made his way all the way back to ninth, which was somewhat remarkable given that he was pushed back to last as a result of his fall. He now trails Villopoto in the point standings by 23 points, and was checked into a local medical center after the race to treat unspecified injuries from the crash.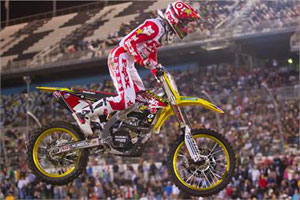 Dungey Races Back to Daytona Podium

Ryan Dungey raced back from a mid-pack start to claim third place in Saturday's Daytona Supercross at Daytona Beach in Florida.


Rockstar Makita Suzuki's defending Champion gated his RM-Z450 in 10th position in the 20-lap Main Event but clawed back methodically to the podium position which has now put him up to fourth place in the series after nine rounds.


Dungey started the day with a strong showing in practice, ending up with the fourth best time on the tough Daytona layout. In his heat race, his Yoshimura-equipped RM-Z powered him out of the gate and put him right up to the front. After several strong laps in the lead, Dungey suffered an unfortunate mechanical issue, resulting in a DNF. His Rockstar Makita Suzuki team pulled together and rallied to make a quick engine swap in order to prepare for the Last Chance Qualifier and he rocketed out of his poor gate choice a won the four-lap race. Due to the trip to the LCQ, Dungey ended up with the 19th gate pick for the Main Event. Despite the poor starting position, he bolted from the gate to a mid-pack position and charged through the pack, eventually crossing the line in third place.


"I owe a lot to my Rockstar Makita Suzuki team today," said Dungey. "They worked their butt off to get my Suzuki ready for the LCQ and for it to run that good in the Main was unbelievable. I'm really happy - we had our work cut out for us tonight. With the cards that were dealt and the circumstances, I think we handled everything the best we could and did all we could. I think at the end of the day, we're happy with the result. I'm really looking forward to Indy; the new Lucas Oil Stadium is really cool and the fans there are great. It'll be good to get back indoors."


Dungey's Rockstar Makita Suzuki team mate Brett Metcalfe came to Daytona somewhat battered and bruised after a significant crash in Atlanta last week. The tough Aussie soldiered through the day with a decent practice and a strong heat race in which he finished fifth. In the Main, after a poor start and 11th after the first lap, Metcalfe was able to work his Suzuki up to eighth place before a mistake put him on the ground on lap 13. He remounted to eventually finish a disappointing 18th.


"This track is always tough," said Metcalfe. "And last week's crash took a lot out of me physically. I knew it was 'gonna be tough coming in, but I tried to be positive. We got better through practice and my Rockstar Makita Suzuki team really got the bike working good for me and I couldn't really ask for anything more. I just wasn't physically prepared for that kind of race. I tried to make a game plan and stick to it, but I lost that game plan about halfway through the Main. I felt good at the beginning of the race, but by the halfway point, it was tough for me and I lost a bit of focus there. We're still in one piece and I just hope to have a good week and move on."


The 2011 Rockstar Makita Suzuki team's next event is Saturday, March 12th, at Lucas Oil Stadium in Indianapolis.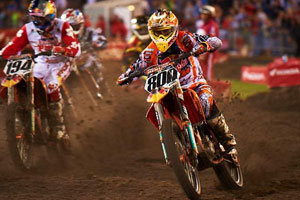 All Red Bull/KTM Team Riders Finish Inside Top Ten, Again!
Short Ties KTM Best Finish Record

All three Red Bull/KTM Factory Team riders placed inside the top ten at the ninth round of the AMA Supercross Series held at Daytona International Speedway. In addition to the positive team result, team rider Andrew Short's 4th place finish tied the best overall finish record for any KTM rider in Supercross history. His teammates, Ken Roczen and Mike Alessi finished 8th and 10th respectively.


Alessi was up first in Supercross heat number one. Unfortunately, Alessi made a mistake and bolted forward before the gate dropped. He was stuck in the gate and took off dead last from the start. He moved forward at a quick pace and had climbed up to a remarkable 7th place by the end of the second lap. He passed one more rider near the end of the race to finish 6th overall in his heat.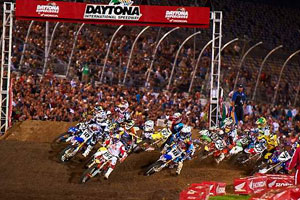 Roczen and Short were up next in heat number two. Roczen, in only his second Supercross heat race, took the holeshot on his KTM 350 SX-F. He was passed on the inside by Davi Millsaps at the exit of the first turn and missed a jump on the next rhythm section to drop to 4th place. He quickly passed back into the top three behind leaders Millsaps and James Stewart. On the second lap, Stewart made a mistake and allowed Roczen to close the gap. A few turns later Stewart crashed, handing 2nd place to Roczen. Stewart quickly rebounded and got back around Roczen on lap four. Meanwhile Short had started inside the top five and ran up as high as 4th place before making a few mistakes at the end of the race to finish 6th in the heat. Roczen went on to finish 3rd behind heat winner Stewart and the 2nd place ride of Millsaps.


The three Red Bull/KTM team riders were joined by another 350cc rider when JDR/J-Star/KTM Team rider Tye Simmonds qualified into the main event. This marked the most KTM 350 SX-F machines that had ever lined a Supercross main event gate.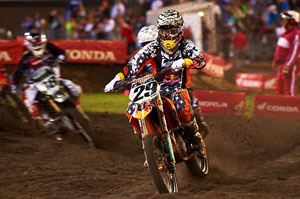 When the gate dropped, Alessi had a great jump but got pushed to the far outside around the first corner and was run off the track. He quickly got back on and moved into the top fifteen at the end of the first lap. His teammates, Short and Roczen had better luck as Short came out 3rd off the start and Roczen was inside the top ten. Short reported, "I was definitely a little nervous off the start because I had 12th gate pick and was worried I wasn't going to get out front. When the gate dropped, I hung it all out and was able to make some smart moves and get out front early. I know that getting a good start in a race this demanding is what definitely made my race tonight."


Short was able to capitalize on his great start by moving into 2nd on lap four after Stewart suffered a hard crash. He held 2nd position for two laps before Millsaps made a pass on him on lap five. Chad Reed and Ryan Dungey began to close in on him the following lap and he began to make mistakes as they continued to pressure. "I got a little tight when Reed and Dungey were closing on me and I was trying to ride too hard which caused me to make a few mistakes," remarked Short. "Once they got around, I calmed myself down and got back into my rhythm. That is when I started to get time back on Millsaps." Short went on to run Millsaps down with three laps to go. He made the pass stick on lap seventeen and continued to pull Millsaps to the checkered flag. Short made history when he crossed the line in 4th position tying former KTM factory rider, Mike Fisher's, best finish on a KTM and also earning the best overall finish for the KTM 350 SX-F in Supercross racing.


Back on the track, Roczen was riding a solid race inside the top ten. Roczen raced around in 9th place for the majority of the race. On lap twelve he was able to avoid a collision that happened when Bret Metcalfe cross-rutted in front of Trey Canard and took both riders out. Roczen snuck by them and moved into 8th place. He held 8th place through the remainder of the moto to earn his second top ten finish in the Supercross class.


"I had a lot of fun tonight. I actually got a good start because I rode through the middle instead of off to the inside or outside and was able to move in front of a lot of people right from the beginning. After that, I just tried to remain consistent and maintain my position. I was really happy to get another top ten," stated Roczen.


Alessi, who had been run off the track on the start, had climbed back to 11th place by lap four. He fell back to 16th at one point before turning up the heat after the halfway mark and working his way toward the top ten. When the checkered flag flew he had worked his way up to 10th place, putting the third KTM into the top ten.


"It's great to get three KTM's in the top ten again. I like Daytona because it is as close to an outdoor race as we get in Supercross and I feel more at home on these type of tracks. I wish I could have had a better start to help my race, but I am happy to finish inside the top ten," remarked Alessi.


All three riders reported that this was the longest Supercross main event they had ever raced. "The track was so long and tough," commented Roczen. "I am getting ready to head back to Europe to race the GP's and I think this race was good training for that."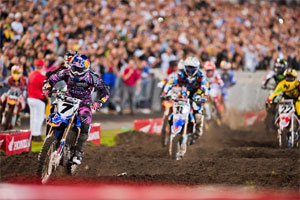 Stewart rallies back to ninth at Daytona

San Manuel Yamaha's James Stewart scored ninth position against the odds at the Daytona International Speedway for the ninth round of seventeen in the AMA Supercross series, also an FIM World Championship.


The Floridian had taken the holeshot at the packed venue on the east coast and was cruising ahead with a lead of over six seconds when he failed to hit the take-off for a triple correctly and was thrown over the bars. Dazed, Stewart was able to remount and fight back from almost a lap down to enter the top ten and salvage some points.


"I really thought I had that one," he said and then later posted on his officiaI Twitter account: "I totally didn't expect to wheelie into the face of that jump. I can live with it because I don't feel like I did anything wrong. I'll never quit. It's not about how hard you go down, it's about how hard you fight when you get up. I am a little sore now but fine and I have to say a big thank you to the fans; they gave me a standing ovation at the end of the race."


JGR Yamaha's Davi Millsaps was running as high as second across the long course but would eventually drop back to fifth on his YZ450F and finish six seconds ahead of his team-mate Justin Brayton (pictured.


After Stewart's mishap Ryan Villopoto was free to obtain his fourth victory of the season and extend a gap in the standings to 23 points over his rival (25 points are awarded for a win). Stewart is just one point ahead of Chad Reed. Brayton is eighth in the table and one point ahead of Millsaps. The series has now passed the halfway stage and round ten will take place next Saturday at the Lucas Oil Stadium in Indianapolis.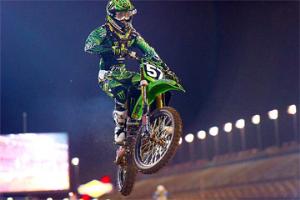 Baggett wins Lites class in Daytona

The Daytona supercross track seems to have been made for Kawasakis, as Blake Baggett piloted his Kawasaki KX250F to a Lites East victory on the same night that Ryan Villopoto also claimed a win for Team Green in the Premier class.

Baggett grabbed the holeshot and ultimately put together an impressive wire-to-wire victory, leading the entire way. However, the early going was anything but easy, as he had to cope with a hungry Justin Barcia from Honda. Barcia kept things interesting for the first few laps, but Baggett was eventually able to obtain an insurmountable lead. By the race's end, the Kawasaki rider was a full 15 seconds ahead of Barcia.

While that narrowed the gap between the two riders in terms of the Lites East point standings, Barcia still holds the edge at 69 to Baggett's 65. Dean Wilson slipped back to third after a disappointing night that saw him fall multiple times and ultimately finish in eighth place.

The other podium member was Ryan Sipes for Yamaha, who was able to grab third place from the beginning and never relinquish it. He was followed in the final standings by Blake Wharton, P.J. Larsen, Jason Anderson, Malcom Stewart and Wilson.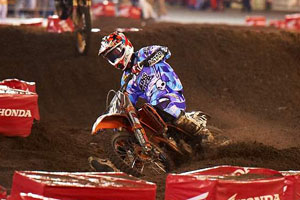 Larsen Earns Season Best Finish - 5th at Daytona Supercross

JDR/J-Star/KTM Team rider PJ Larsen earned his season best finish with a 5th place result at the third round of the AMA East Lites Supercross Series at Daytona International Speedway. His teammate, Tye Simmonds, qualified for his fourth Supercross main event and finished 17th for the night.


Larsen had a decent start to his evening finishing 4th in his heat race. He had a top five start and rode a mistake-free race to finish 4th overall. His result gave him a good gate pick for the main event. "The gate pick was critical here tonight because the start was so important to this race. I was happy to have a good heat race result so I was able to land a decent starting spot for the main," commented Larsen.


In the main event, Larsen lined up five gates over from the inside of the box next to Dean Wilson. He was able to get a good jump off the start and came around inside the top ten after the first corner. He moved up to 7th at the end of the first lap and stepped up to 6th on lap two after moving around Les Smith.


Larsen put in a solid performance racing in 6th position through the majority of the race. Near the end of the race he was able to jump up one more position when Matt Lemoine crashed. Larsen held 5th place through the end of the race to earn his season best finish.


"I was glad to put in a decent ride tonight. I am happy to improve upon my overall finish but I still feel I am a podium contender. I want to be on the podium and will continue to work hard to get there," stated Larsen.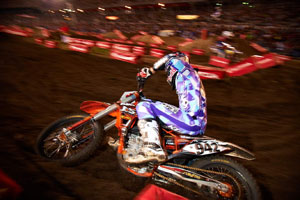 In the Supercross class, Simmonds was able to snatch the final qualifying position into the main event after a long battle with Jarrod Browne. The two riders battled during the final laps of the heat with Simmonds grabbing the golden ticket into the main event.


Simmonds had a poor gate pick in the main after qualifying at the bottom of the group, and therefore, suffered off the start of the race. He was 18th at the end of the first lap and stayed around that position throughout the majority of the race. "I wasn't able to get the best start and the lead group pulled away fast. This course was definitely challenging tonight and I am just happy to have made the main event and put in a solid twenty laps," remarked Simmonds.


The team will head to Indianapolis, IN next weekend for the tenth round of the AMA Supercross Series.

Daytona Supercross Results

1) Ryan Villopoto

2) Chad Reed

3) Ryan Dungey

4) Andrew Short

5) Davi Millsaps

6) Justin Brayton

7) Kevin Windham

8) Ken Roczen

9) James Stewart

10) Mike Alessi

11) Ivan Tedesco

12) Matt Boni

13) Trey Canard

14) Michael Byrne

15) Nick Wey

16) Fabien Izoird

17) Tye Simmonds

18) Brett Metcalfe

19) Chris Blose

20) Matt Goerke

Supercross Point Standings

1) Ryan Villopoto - 196

2) James Stewart - 173

3) Chad Reed - 172

4) Ryan Dungey - 165

5) Trey Canard - 154

6) Andrew Short - 128

7) Brett Metcalfe - 107

8) Justin Brayton - 105

9) Davi Millsaps - 104

10) Kevin Windham - 89

Daytona Supercross Lites Results

1) Blake Baggett

2) Justin Barcia

3) Ryan Sipes

4) Blake Wharton

5) PJ Larsen

6) Jason Anderson

7) Malcolm Stewart

8) Dean Wilson

9) Matt Lemoine

10) Les Smith

11) Lance Vincent

12) Taylor Futrell

13) Alex Martin

14) Levi Kilbarger

15) AJ Cantanzaro

16) Hunter Clements

17) Nico Izzi

18) Kyle Keylon

19) Hunter Hewitt

20) Ryan Zimmer

Supercross Lites Point Standings

1) Justin Barcia - 69

2) Blake Baggett - 65

3) Dean Wilson - 60

4) Ryan Sipes - 54

5) Blake Wharton - 51

6) Jason Anderson - 41

7) Matt Lemoine - 35

8) Malcolm Stewart - 34

9) PJ Larsen - 33

10) Lance Vincent - 33