Yamaha Introduces Y.E.S. Sponsorship For Top Riders
Chaparral Motorsports
|
March 3, 2011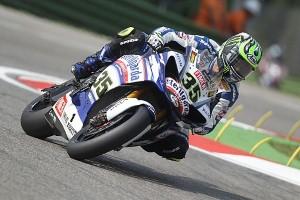 Yamaha has announced that many of its most prominent riders will be displaying sponsorship related to its Yamaha Extended Service (Y.E.S.) program, an optional add-on for bikes and ATVs that essentially functions as an extended warranty.

The announcement took place at the recent Indy Dealer Expo, and MotoGP's Yamaha Monster Tech 3 racer Colin Edwards was on hand to announce the new marketing strategy to the assembled vendors.

"Yamaha U.S. has always had my back for my entire career even during my motocross days as a little kid," said Edwards. "And this new sponsorship from Y.E.S. is a great fit as Y.E.S. will surely have your back once you buy a new Yamaha product!"

Aside from Edwards, the company will also sponsor two superbike racers who ride for the Graves Motorsports team. New rider Chris Clark will be competing on the Yamaha YZF-R1 in the AMA American Superbike series.

Meanwhile, teammate Tommy Aquino will be onboard the YZF-R6 in the upcoming Daytona Superbike series. The new sponsorship will first be seen in the upcoming Daytona 200, which Aquino will compete in on March 12.

Riders who purchase from Yamaha may want to consider the Y.E.S. program if they hope to avoid service charges for their bike.