Husqvarna Details Contingency Program
Chaparral Motorsports
|
March 2, 2011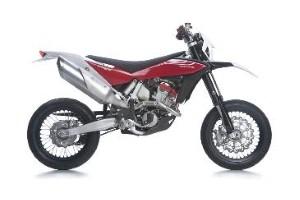 Husqvarna has announced a new contingency program for professional racers on Husqvarna-branded bikes, and the company is doing things a bit differently by allowing riders to redeem their rewards digitally.

The program, known as "Ride More," has nearly $12 million set aside in funding and plans to cover 146 separate races. Series like Endurocross, GNCC, National Hare & Hound, Best in the Desert and more are all eligible to pay out prizes.

"Husqvarna is committed to those who choose to ride Husky's," said National Marketing Manager Corey Eastman. "The "Ride More" concept creates an overall racing program that supports both top Pros and average Joes, which was our main goal for 2011!"

Unlike many other programs, which require riders to fill out and mail a form, Husqvarna will handle payments through the website XTRM.com. Through this site, registered riders can track their performance in different races and cash-in any money they've earned, either in the form of electronic coupons or cash, which would be mailed to them at a later date.

In addition to the contingency news, Husqvarna also announced that it will once again be offering factory support to Fred Andrews Racing team in the East. The Western team will be Zip-Ty Husqvarna Racing.