Honda Defends Against Cheating Accustations
Chaparral Motorsports
|
March 2, 2011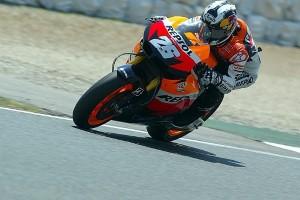 Honda's recent string of top results in MotoGP testing may leave other teams scratching their head - as the trio of Casey Stoner, Dani Pedrosa and Andrea Doviozo have yet to be beaten.

Not only have these three racers topped or nearly topped all the tests thus far, the results haven't really even been close. All three Honda riders were actually able to break the course record at Sepang, previously held by Valentino Rossi.

In fact, Honda's times were so fast that some have come to believe that the team is using some type of illegal or banned technology in their bikes in order to gain an unfair advantage.

The most likely suspect was a dual clutch transmission (DCT) system, possibly even sourced from Honda's own VFR1200. DCT systems allow riders to change gears slightly quicker - a major difference in a race often contested by tenths of a second.

Still, Honda Racing boss Shuhei Nakamoto assured fans that everything was on the level.

"Obviously HRC is not using anything illegal, but it's true that we have something new on the transmission that currently ... allows for faster gear changes," says Nakamoto. "We are not talking about a DCT, but I can't tell you how it works ... because I don't know!"