Herfoss Races To 2nd At Phillip Island
Chaparral Motorsports
|
March 2, 2011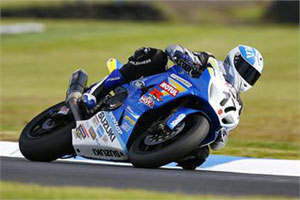 Team Suzuki rider Troy Herfoss mastered treacherous track conditions to kick off his rookie Superbike season with an impressive second overall at the opening round of the 2011 Australian Superbike Championship, run in conjunction with the opening round of the 2011 Superbike World Championship at Victoria's Phillip Island Grand Prix Circuit at the weekend.


Herfoss, the 2010 Australian Supersport Champion, finished just 0.018sec behind third-placed Wayne Maxwell in the first of Sunday's two 12-lap races, held on a damp but rapidly-drying circuit.


The 24-year-old backed up with second in a dry race two, finishing 4.265sec behind dual race winner Glenn Allerton.


Allerton, the 2008 Australian Superbike Champion, scored a clean sweep of both 12-lap races, a calculated gamble to use dry-weather 'slick' tyres in the opening race paying dividends as the 4.45km track began to dry in the closing laps. Attard also opted for dry-weather tyres, with Maxwell and Herfoss the first of the riders on 'wets', the duo battling with a lack of grip as their 'wet' tyres overheated and struggled for traction on the drying tarmac.


In the second 12-lap race, held in totally dry conditions, 30-year-old Allerton took a 4.265sec victory over Herfoss, with two-time Australian Superbike Champion Jamie Stauffer 4.364sec back in third.


Herfoss, who is entering only his third full season of road racing after claiming the 2008 US Supermoto Championship, showed maturity beyond his years to cope with the widely varying track conditions throughout the day. Against far more experienced competitors he claimed second overall, and lies just 13 points off the championship lead.


Team Mack Trucks Suzuki rider Robbie Bugden carded sixth and eighth placings on his Suzuki GSX-R1000 to claim seventh overall for the round, a gritty performance by the three-time New Zealand Superbike Champion given the limitations imposed by a still-healing leg that was fractured just 30 days before the meeting.


In the opening round of the Australian Supersport Championship, Team Suzuki rider Brodie Waters drew first blood when he secured pole position in his debut with the team. Waters, the younger brother of Josh, then backed up his qualifying performance on his Team Suzuki GSX-R600 with a thrilling 0.165sec win over Kevin Curtain in Saturday's 12-lap opening race.


Race Two, held in wet conditions on Sunday morning, saw Waters fortunate to survive a near crash as he exited The Hayshed (Turn Eight) on lap two. Flung high out of the saddle, the 18-year-old ran on to the wet grass and across a gravel trap, managing to regain control and keep his Suzuki GSX-R600 upright and rejoin in 12th place. Waters worked his way back to eighth in the 12-lap journey, the 13 points he gained proving valuable and giving him third overall for the round (39pts), just one point behind second-placed Curtain (40pts) and three points behind round winner and championship leader Aaron Gobert (42pts).


Missing from the opening round was Team Suzuki Superbike rider Josh Waters, the 2009 Australian Superbike Champion accepting an invitation to ride as a 'wildcard' aboard a Team Yoshimura Suzuki GSX-R1000 in the World Superbike Championship races.


Waters qualified an impressive 11th fastest in his maiden outing on the World SBK-spec Suzuki GSX-R1000. The 24-year-old finished 18th in race one after suffering a flat front tyre, but backed up with 13th in the second 22-lap race to finish nearly five seconds ahead of dual Superbike World Champion James Toseland.


Phil Tainton - Team Manager:

"It's been a great weekend for Troy in his race debut on the Superbike and I'm extremely happy with his results. We were looking for a good start to the 2011 season, and he delivered. Troy's just entering his third full season of road racing and he rode with great maturity in conditions that weren't easy for even the most experienced riders.


"Brodie has fitted straight into the team and to secure pole and a first-up win was a great debut. His 'save' in race two was impressive, and the points are so important for the championship. With three Suzuki GSX-R1000s in the top 10 in Superbike, and three Suzuki GSX-R600s in the top 10 in Supersport, it shows the strength of the GSX-R range.


"I'd like to congratulate the Yoshimura Suzuki Team and Josh for their results across the weekend. The two teams worked closely together (Team Yoshimura and Team Suzuki) and it's been a positive experience for all the guys in Team Suzuki."


Troy Herfoss:

"I'm happy with the results in the two races and to be second in the championship, but it was a strange opening round for me in some ways. The Superbike is a lot faster than my Supersport bike, and a bit scary, but I love riding it. I think I was just nervous and a bit tense, so it's good to get that one out of the way. The team was great and so supportive. I know it sounds strange, but I was actually less tense in the wet first race than I was in the dry second race."


Brodie Waters:

"Pole and a race win is a great way to start the season. The first race was a real hard one. I knew I'd have to fight all the way to get the win against the other three (Kevin Curtain, Mitchell Carr and Aaron Gobert) on that last lap, and that's the way it turned out. I guess I'm fortunate I didn't crash in the second race, so I should be happy with eighth - but I'm not. It was my mistake. The rear let go as I came out of the The Hayshed - I must have got on the gas a bit too hard, but we're only three points off the championship lead so I'm looking forward to Symmons Plains."


Robbie Budgen:

"My bike had the pace but I was struggling a bit with my injured leg. It was difficult to move around on the bike, so I'm pretty happy with the results given the circumstances. That first race was a bit of a gamble as to whether to go for 'wets' or 'slicks'. I'm looking forward to getting some race fitness back and getting closer to the front."


Josh Waters:

"It's been an amazing experience to ride in my first World Superbike event. The team has been awesome and the Yoshimura bike is amazing - I've never ridden anything like it before. The World Superbike-spec bikes are so different to our Australian ones. It's been great to race against the best riders in the world, and it shows just how competitive our Australian series is. I'm now looking forward to getting back on my own bike for the next round at Symmons Plains next weekend."


Superbike Overall Results - Round 1:

1 Glenn Allerton; 2 Troy Herfoss (Suzuki GSX-R1000); 3 Ben Attard; 4 Craig Coxhell; 5 Jamie Stauffer; 6 Beau Beaton; 7 Robbie Bugden (Suzuki GSX-R1000); 8 Ben Henry (Suzuki GSX-R1000); 9 Cole Odendaal; 10 Wayne Maxwell.


Superbike Championship Points (after 1 of 8 rounds):

1 Glenn Allerton 50pts; 2 Troy Herfoss (Suzuki GSX-R1000) 37; 3 Ben Attard 36; 4 Craig Coxhell 33; 5 Jamie Stauffer 32; 6 Beau Beaton 29; 7 Robbie Bugden (Suzuki GSX-R1000) 28; 8 Ben Henry (Suzuki GSX-R1000) 25; 9 Cole Odendaal 23; 10 Wayne Maxwell 19.


Supersport Overall Results - Round 1:

1 Aaron Gobert; 2 Kevin Curtain; 3 Brodie Waters (Suzuki GSX-R600); 4 Mitchell Carr; 5 Blake Leigh-Smith (Suzuki GSX-R600); 6 Christan Casella; 7 Chas Hern (Suzuki GSX-R600); 8 Andy Lawson; 9 Hafizh Syahrin Abdullah; 10 Ryan Taylor.


Supersport Championship Points (after 1 of 6 rounds):

1 Aaron Gobert 42pts; 2 Kevin Curtain 40; 3 Brodie Waters (Suzuki GSX-R600) 39; 4 Mitchell Carr 35; 5 Blake Leigh-Smith (Suzuki GSX-R600) 32; 6 Christan Casella 31; 7 Chas Hern (Suzuki GSX-R600) 24; 8 Andy Lawson 20; 9 Hafizh Syahrin Abdullah 18; 10 Ryan Taylor 18.