Bobbitt Wins AMA National Enduro Season Opener
Chaparral Motorsports
|
February 28, 2011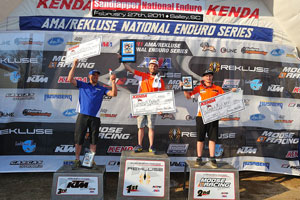 FMF/KTM rider Russell Bobbitt started the AMA National Enduro season in the best way possible - with an event win!


Bobbitt, a 3-time National Enduro Champion, is no stranger to winning. After struggling with a separated shoulder throughout the majority of last season, he is back to top form for 2011. It's no secret that Bobbitt has revamped his training routine since last October to focus more on speed training and overall fitness. All of his hard work paid off when he captured the win at the opening round in Salley, SC.


Not only did Bobbitt win the first race, he dominated the first race. He turned the fastest time in the first three sections before having his first hiccup. "I crashed once in the fourth test which cost me some time and I ended up with the fifth fastest time," remarked Bobbitt. Despite his crash, Bobbitt still maintained the lead after the fourth test.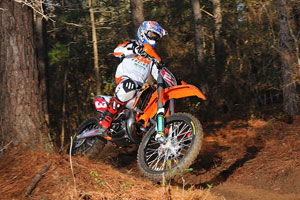 "I got back into my rhythm in the fifth test and had a lot of fun," stated Bobbitt. The final test took the riders back to the second test, only this time they had to run the loop backwards and also incorporate sections of the third loop. Bobbitt reported, "The sixth test was definitely beat down since it was the loop we had used for previous tests. It was really fast and sandy with quite a bit of single-track. I was definitely glad to be on my two-stroke as it was very easy to rip through the single track and put in a fast time."


Also riding a two-stroke was KTM support rider Brad Bakken who won the fourth test and finished 2nd overall behind Bobbitt. Husaberg rider Mike Lafferty rounded out the podium while three more KTM riders followed behind, Cory Buttrick, Steward Baylor and Charlie Mullins.


"We are very happy with Russell's performance today as well as the other six KTM riders that finished inside the top ten. It was a great day for KTM," stated FMF/KTM Team Manager Antti Kallonen.


Next Event: Forest Hill, LA - March 20, 2011

Overall Results

1) Russell Bobbitt - KTM 35:40

2) Brad Bakken - KTM 36:28

3) Mike Lafferty 36:45

4) Cory Buttrick - KTM 37:11

5) Steward Baylor - KTM 37:49

6) Charlie Mullins - KTM 38:47

7) Nick Fahringer 39:24

8) Thaddeus Duvall 40:38

9) Shane Hufford - KTM 42:41

10) Zach Klamfoth - KTM 44:31