2011 Atlanta AMA Supercross Results
Chaparral Motorsports
|
February 28, 2011
2011 AMA / FIM World Championship Supercross series round 8, Atlanta, GA race results/recap: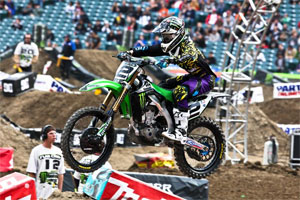 Acerbis' Ryan Villopoto Wins Atlanta Supercross

Acerbis-backed Monster Energy Kawasaki's Ryan Villopoto took the win in one of the most epic races to take place in the past two decades of Supercross History. Red Bull KTM's and Acerbis-backed Andrew Short took an impressive 6th place finish.


After posting the 7th fastest last time during the daytime qualifiers one might not have pegged Villopoto to be the man on top of the podium at the end of the night's racing. However, Villopoto showed a strong performance during his heat race, taking the win and transferring into the main event with a prime gate pick.


At the start of the main event, Villopoto found himself with a decent 4th place positioning right behind James Steweart, Chad Reed and Trey Canard. While Stewart and Reed were battling back and forth for the lead, a crash by Canard allowed for Villopoto to slide into third place. Villopoto could not quite get close to battle with the points-starved leaders, but his consistent and smart payed off in the end. On the last lap, in a desperate attempt to take the lead, Reed made an aggressive pass on Stewart causing both riders to go down, giving way to Villopoto to take the lead. Villopoto took the win and extended his championship lead to ten points over James Stewart.


Meanwhile, Acerbis' Andrew Short found himself in 8th place at the start of the main event and charged hard to bring home a 6th place finish for Red Bull KTM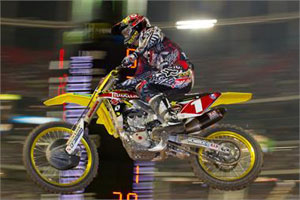 Dungey charges to 2nd at Atlanta Supercross

Team Rockstar Makita's Ryan Dungey charged to second place in Saturday night's AMA/ FIM Supercross eighth round in Atlanta Georgia and closed the points-gap in the series lead.


The defending Champion lies fifth on his RM-Z450, just five points from third place with nine rounds remaining.


Team mate Brett Metcalfe raced to 10th position in the Supercross Main Event - held in front of 69,000 fans - and currently lies seventh in the series standings.


Dungey looked strong all day, starting off with the fastest time in the afternoon's timed practices. After a tough start in his heat race, he pounded out eight strong laps to cross the line in sixth. In the Main, he quickly found himself in fourth place in the extremely fast-paced race, but he rode a strong and consistent 20 laps and took advantage of a last lap incident by the leaders to grab second place.


"My Rockstar Makita Suzuki team really did a good job on the bike today," said Dungey. "I ended up having the fastest time in practice, which was cool. I had a bad start in my heat race and that wasn't all that good, but it's the main that counts. I got off to a pretty good start, but I got shut off a little. I was sitting in fourth most of the time but then was able to move my way into second at the end of the race, which is good. I'm right below the top step of the podium and consistent. I just 'gotta keep my head down and keep plugging away. I'm looking forward to Daytona. I like Daytona; it's always fun. It's a tough track and it's different - It's Supercross, but it's a bit rougher and the layout is different. I'm going to get back home, work on the track, and get ready for Daytona."


After his best practice sessions of the season, Metcalfe looked strong and was running third in his heat race when he crashed hard at the end of the whoops, resulting in a trip to the last chance qualifier (LCQ). A last lap pass for second in the LCQ put him and his RM-Z through to the Main Event with the last gate pick. In the Main, Metcalfe blasted out of the poor gate choice with a strong start and rode a heroic race to finish in 10th place.


"It was a long day," said Metcalfe. "It had its really good points and its really low points. The whole Rockstar Makita Suzuki team worked really hard this week and got me feeling really comfortable so I was really looking forward to tonight. Practice went great - I hadn't felt that good all year. Things were really looking up. In the heat race, I got a great start and was in third, then I made a big mistake in the whoops and went down hard. I didn't get up too quick from that one. Going into the LCQ, I was just trying to get out there and make it in and I was able to make a pass on the last lap and made it through. I wasn't feeling well going into the Main Event. My goal was to just finish the 20 laps with no big mistakes and I was able to get 10th. I'm looking forward to Daytona. It's an outdoor track; Supercross style, but still an outdoor track. I always like going there to race."


The 2011 Rockstar Makita Suzuki team's next event is Saturday, March 5th, at Daytona International Speedway in Daytona Beach, Florida.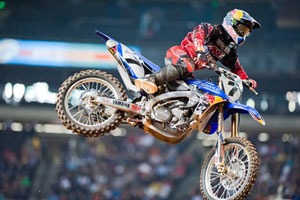 Stewart fourth after dramatic Atlanta SX

San Manuel Yamaha's James Stewart finished 4th at the Georgia Dome in Atlanta after an exciting and frantic eighth round of seventeen in the AMA Supercross series (also an FIM World Championship). The Floridian engaged in a fight for the win with Chad Reed throughout the twenty lap main event watched by over 69,000 spectators and a thrilling finale was denied on the final circulation when the two collided and crashed trying for the same line and both Ryan Villopoto and Ryan Dungey were able to capitalise.


Stewart and Reed were clearly the fastest competitors around a tight course inside the Atlanta venue for the first meeting away from the west coast of the country. Both were vying for track space with small mistakes limiting their capacity to make a break away. Stewart moved past the Australian with one lap remaining but Reed hounded the back of the YZ450F and attempted an aggressive block pass several corners before the chequered flag, despite entering the turn several bike-lengths behind. In the ensuing chaos both were able to remount and Reed found a way to gain the last step on the podium.


Disappointed, Stewart - who has finished off the podium only twice in 2011 - could only mention on his Twitter account that he 'never saw it coming' and also added 'now I am just looking forward to Daytona. The bike and team were great. I'll be back for another day of racing.'


JGR Yamaha's Justin Brayton crossed the line in 7th position while team-mate Davi Millsaps was 11th. Stewart now stares at a 10 point deficit to standings leader Villopoto while Reed is 11 adrift of the Yamaha man in third spot. Round nine will take place next weekend at the Daytona International Speedway.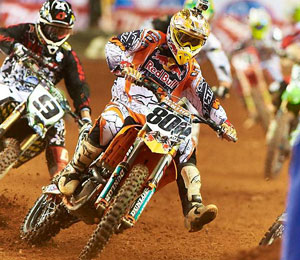 Short Finishes 6th at Atlanta Supercross

Red Bull/KTM rider Andrew Short put together another solid performance finishing 6th at the eighth round of the AMA Supercross Series at the Georgia Dome.


Short had a decent day turning the 10th fastest lap time in the afternoon qualifying. His teammate, Mike Alessi, was able to qualify 12th fastest. As a result both KTM riders were placed in the first heat.


In the heat both riders got a decent start near the top five. Alessi just edged out Short off the start and the two teammates battled throughout the 8 lap heat. Near the final lap Short was able to put a pass on Alessi and take over 4th position. Short would go on to finish 4th while Alessi finished 5th.


In the main event, Short got off to an okay start rounding the first turn in 8th. Alessi didn't have as good of a jump and came around the first corner around 15th. Short had a great first few laps moving from 8th place quickly up to 6th. When Trey Canard crashed early in the race, Short was able to capitalize on the crash and move into 5th place.


Once in 5th, Short remained consistent and maintained his position throughout the majority of the race. Meanwhile, Alessi had some problems as he was trying to come up through the pack. Midway into the race, Alessi suffered a crash that put him at the back of the pack. He would eventually finish the night in 18th.


On the final lap, Canard had caught back up to Short. The Red Bull/KTM rider tried as he could to hold off the hard-charging Canard as they completed the final lap. Unfortunately, Canard was able to make the pass with a few turns to go and grabbed the 5th spot while Short went on to finish 6th.


"Overall I was happy with my ride tonight. My first five laps were really good and I was able to move into the top five. I'm bummed Trey got around me at the end but I am still happy to be close to the top five. We are continuing to make great progress every week," commented Short after the race.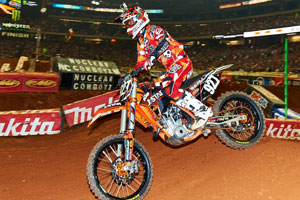 JDR/J-Star/KTM Atlanta Supercross Race Report

The JDR/J-Star/KTM Team was in full swing this week as the series headed back to the east coast for the eighth round of the AMA Supercross Series in Atlanta, GA.


JDR/J-Star/KTM rider Tye Simmonds returned to action feeling much better after sitting out last weekend's San Diego Supercross event to recover from chronic bronchitis and pneumonia. "I would say I'm about 85% better and I was actually able to ride this past week for the first time in two weeks. My team manager, Nathan Ramsey, helped me a lot this week in practice and I am hoping it will pay off tonight," remarked Simmonds before the race.


His training seemed to help as Simmonds looked solid in practice and then came out strong in his heat. "I was able to get a decent start in my heat and was sitting around 6th after the first lap. I was happy with that position because I knew it was within the top nine and all I wanted was to put my KTM in the main event," stated Simmonds. Throughout the eight lap heat, Simmonds kept his pace and was even able to hold off Ryan Dungey for two laps before Dungey got around Simmonds in the final two laps of the heat. Simmonds held on to finish 7th qualifying for his third Supercross event this year.


"I felt really good in my heat and was not bothered by my cold at all. I felt strong and was excited to qualify from the heat and not have to go to the LCQ. It was good to go back to the rig for a little bit and rest before the main event," said Simmonds.


In the main event, Simmonds started around 13th and moved up to 10th by the end of the first lap. "I stated mid-pack but tightened up right away and dropped back," reported Simmonds. At the end of the third lap he was sitting in 14th place. He held that position until lap six when Nick Wey was able to make a pass on him and take over the position. Simmonds eventually found his rhythm near the final laps of the race but it was too late to make any significant moves and he finished the night in 15th.


"I would like to get closer to the top ten. I feel that's where my speed is and where I should be competing, but I am still happy to have been in the main event tonight after battling with bronchitis the past two weeks," stated Simmonds.


Joining Simmonds at the Atlanta event was his Lites Supercross teammate, PJ Larsen. The South Carolina native considers the Atlanta race his hometown Supercross and was excited to race in front of many of his friends and family.


Larsen was feeling pretty good in practice before he had a crash in the whoops. "When I crashed in practice, I tweaked the same wrist I had hurt practicing at home a week ago and it continued to give me problems for the rest of the night," stated Larsen.


Despite the wrist pain, Larsen performed well in his heat race. He garnered a 4th place start and quickly moved into 2nd place by lap two. At the end of six laps, Larsen was able to hang on to 2nd place finishing right behind heat winner Ryan Sipes.


In the main event, Larsen didn't have the best jump off the start but he was able to dive to the inside of the first corner and make up some of the positions he had lost. At the end of the first lap he was sitting in 8th. The next lap he battled with Jason Anderson and was down a position as they crossed for lap two. On lap three he made a pass on Alex Martin to move back into 8th place and two laps later he capitalized on a mistake by Anderson and climbed into 7th.


"My wrist was feeling okay during the first part of the race but around lap seven I jarred it on a jump and then again through the whoops and it became harder to hold on," commented Larsen.


Larsen continued to charge on and was able to finish in 7th position for the night. "I definitely wanted to finish inside the top five tonight. I am not very pleased with where I finished overall. I know my wrist was hurting me but it was also very hard to pass on this track and I struggled to get around other riders. I am hoping to improve upon this result next week at Daytona."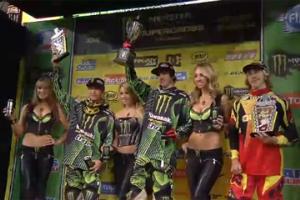 Dean Wilson comes in first at the Supercross Lites East

Monster Energy/Pro Circuit Kawasaki's Dean Wilson beat out a number of other riders to come in first place at the recent Supercross Lites race in Atlanta, according to Cycle News.

Blake Wharton, who was on a GEICO Honda, lead for most of the race but crashed with only a little more than three laps left. This gave Wilson an advantage and eventually allowed him to win the race. Justin Barcia also benefited from Wharton's accident and placed second. In the end, Wharton finished in fourth, the news source reported.

"I'm so happy to finally get my first Supercross win," Wilson told the news source. "Even though Wharton crashed I don't feel like the race was handed to me. I had to battle all the way. I hope this is the start of many wins, but tonight I'll enjoy this one."

Third place went to Blake Baggett , while Yamaha rider Ryan Sipes came in fifth. Rounding out the top seven were Hunter Hewitt and PJ Larsen, placing sixth and seventh place respectively.

Supercross Race Results

1. Ryan Villopoto

2. Ryan Dungey

3. Chad Reed

4. James Stewart

5. Trey Canard

6. Andrew Short

7. Justin Brayton

8. Kevin Windham

9. Ivan Tedesco

10. Brett Metcalfe

11. Davi Millsaps

12. Nick Wey

13. Kyle Regal

14. Chris Blose

15. Tye Simmonds

16. Matt Boni

17. Fabien Izoird

18. Mike Alessi

19. Antonio Balbi

20. Kyle Partridge

Overall Supercross Point Standings

1. Ryan Villopoto - 171

2. James Stewart - 161

3. Chad Reed - 150

4. Trey Canard - 146

5. Ryan Dungey - 145

6. Andrew Short - 110

7. Brett Metcalfe - 104

8. Justin Brayton - 90

9. David Millsaps - 88

10. Ivan Tedesco - 78

SX Lites Race Results

1. Dean Wilson

2. Justin Barcia

3. Blake Baggett

4. Blake Wharton

5. Ryan Sipes

6. Hunter Hewitt

7. PJ Larsen

8. Malcolm Stewart

9. Jason Anderson

10. Matt Lemoine

11. Lance Vincent

12. Alex Martin

13. Justin Sipes

14. Levi Kilbarger

15. Brad Ripple

16. Michael Akavdin

17. Sean Lipanovich

18. Nick Myers

19. Vernon McKiddie

20. Killy Rusk