Victory Announces Daytona Events
Chaparral Motorsports
|
February 25, 2011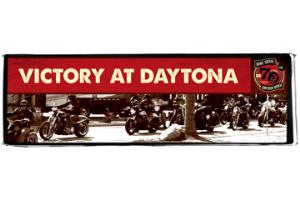 Victory Motorcycles has announced that it will be expanding its presence at this year's Daytona Bike Week by offering visitors a ton of activities to keep them busy all throughout the event.

Perhaps the most enticing activity is the news that all of Victory's current models will be onhand and available for demo rides. As in previous years, the company will be setting up in the parking lot outside turn four of the racetrack. Those interested in the bike can stop over at any point during the entire week and try out one of the models for themselves. Even better, everyone who signs up for a demo ride is automatically entered to win a free Go Pro Hero HD Camera. The company will also be giving away commemorative pins to any rider who shows up in Victory motorcycle apparel or with their Victory ignition key.

One of the week's more exciting events will take place Thursday, March 10th. A short trip down I-95 will take riders to the Speed World Orlando Dragway, which will run an all-day event full of drag racing. All bikes are welcome to compete in the event. It'll be $10 for admission and $5 to take a run on the track.