Team Husqvarna Readies For Racing
Chaparral Motorsports
|
February 25, 2011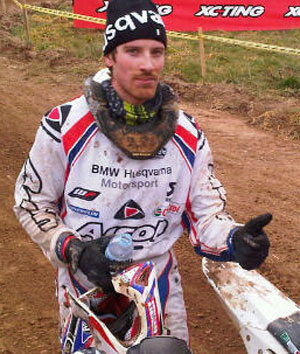 While the majority of the motorcycle industry gathered in Indianapolis for the annual Dealer Expo, including National After Sales Manager Andy Jefferson looking to source some cool new Husqvarna products, Zip-Ty Husqvarna Racing's team turned out in force for more race testing before next week's WORCS round. Meanwhile, Fred Andrews Racing's Flying Finn Simo Kirssi finished off his pre-GNCC season racing in Europe with a podium position in Spain.


"Husqvarna is very off-road minded and it's a great opportunity for me to work with such a successful brand," says Simo. "The latest bikes are the best in the market and with its low weight and brilliant handling, the TE310 is a podium machine for sure!" The 2010 European and German Cross Country champion proved he was ready for the start of the U.S. GNCC series in March by racing the "Bassella Race" in Spain. Despite the fact that many of the 1000+ participants were on bigger bikes, Kirssi finished just seconds behind Aron Bernadez for second overall. "Husqvarna's TE310 is a proven bike and easy to prepare for the high level we need for the GNCC series."


Those in the off-road industry not in Indy or at the San Diego Supercross gathered in San Luis Obispo, California for a memorial service to fallen WORCS racer Nathan Woods, including the entire Zip-Ty Husqvarna team. "The event on Saturday for Nathan was really awesome. You could tell that he was a special person by how many people showed up," notes Nick Burson. "I was glad I got to go and celebrate Nathan's life and career."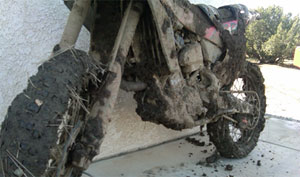 The rain cleared for Sunday's National Western Hare Scrambles race at Deep Creek, an event Cory Graffunder and Nick Burson thought would make for good practice. "I prepared my TXC449 for the mud the best I could considering this would be only the second mud race of my life," says Burson. "I got a pretty bad start and made a few passes... then my mud experience, or lack thereof, came out. I just kept crashing... and crashing! I think I crashed about four times on the first lap and was completely soaked. I finally decided to call it a day before I crashed and got hurt. The race was good experience for me, but I definitely need some more practice in the mud. Hopefully next time I'll have good news!"


"Deep Creek... boy does this place have the right name," adds Cory Graffunder. "It must have rained all week leading up to the race because it was so muddy. I was last off the line, but quickly started moving through the pack of 20 pros on my TC449." Of course the Canadian rider had more experience with mud than desert racer Burson. "I continued to work my way through the pack and passed Brian Garrahan for the lead on the second lap. I was the only one to pit for fuel after two laps and was passed by the top four. I went back to work on lap three and made my way into the lead once again."


At the end of lap three, the other contenders pitted for fuel, giving Graffunder the opportunity to stretch his lead. Unfortunately half way around on lap four, a stick stretched the radiator hose right off. "I lost all the coolant from the bike, so my race was over just a little too early. It would have been nice to follow up the Tractor Hare Scrambles win in Mexico last week with another victory at Deep Creek."


"Tough day of racing, to be sure," says National Marketing Manager Corey Eastman. "However the time spent meeting with our dealers and vendors in Indianapolis at the Dealer Expo was certainly a win-win situation this past weekend... wait until you see what Andy Jefferson has been working on!"