Honda Details History Of Gold Wing On New Website
Chaparral Motorsports
|
February 25, 2011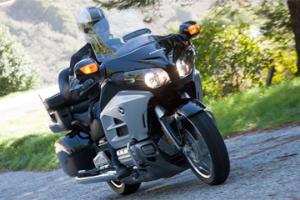 Honda has launched the new 2012 Gold Wing website, where riders can learn all about the specifications, styling and long history of the celebrated model.

The new 2012 Gold Wing features a long list of new features, many of which are technological in nature. Riders who enjoy long road trips can now do so in comfort and luxury thanks to a recalibrated suspension, enhanced windscreen and new features such as GPS navigation and an iPod-integrated sound system.

Looking at the new 2012 Gold Wing, it's amazing to see how the bike has evolved since it first hit the market in 1975. The original GL1000 burst onto the scene and immediately became a big hit with riders everywhere, helping to shuffle in the long-distance riding movement. The success of the model caused Honda to open its own factory in the U.S., where work on the bike's successor, the GL1100, began.

The GL1100 was one of the first bikes to really adopt the touring model features seen today. Riders will notice features like saddlebags and a high windscreen that weren't on the original model, but are now standard for riders heading on longer road trips.

Honda continued making improvements on the bike throughout the eighties and nineties until they finally arrived at the bike riders can purchase today: the GL1800.