Ducati Announces 848EVO Contingency Program
Chaparral Motorsports
|
February 25, 2011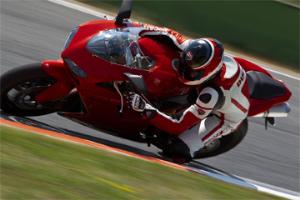 Italian manufacturer Ducati has announced a new racing contingency program for riders who plan on using the new 848EVO in competition.

In a new program that the company claims is its "best in years," riders who compete in select events on the 848 Superbike will be eligible for payouts if they end up on the podium. The new totals for racers include $700 for first place, $300 for second place and $150 for third. The funds will be issued in the form of "Ducati credit vouchers" which can be used to purchase motorcycle parts and accessories from authorized Ducati dealers.

Overall, 109 separate races will be eligible for the bonuses, with anywhere from two to three classes of competition within those races covered. Regional series in the new contingency include CCS, CMRA, MRA, OMMRA, AFM and WSMC. Riders can claim the prizes by downloading and submitting the forms on Ducati's website.

In addition to the new payment scheme, the company also announced a new group of nine riders who would be representing the program as they compete throughout the season. The team will be composed of Howard Crow, Jim Chaconas, Barrett Long, Ryan Jones, Stefano Mesa, Brent Lyskawa, Joel Spalding, Jose Flores and Doug Hillius. All of these riders will be competing on the 848EVO in their respective series.