Russell Bobbitt Wins OMA Opener
Chaparral Motorsports
|
February 24, 2011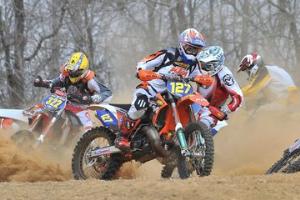 Despite placing first in the sixth round of the OMA Winter Nationals, held at the Seven Springs Lodge, Russell Bobbitt had a difficult time beating out three-time and defending series champion Paul Whibley, according to Cycle News.

Throughout the race the Am-Pro/FMF Yamaha rider was on Bobbitt's heels, only inches away from moving up and stealing first place. Bobbitt was able to block Whibley's numerous passing attempts which eventually allowed him to earn the number one spot. The Obermeyer/Am-Pro Yamaha rider, Jordan Ashburn, came in third place and finished the race almost six minutes after Whibley, the news source reported.

Bobbitt said he was glad to finish first since he recently lost the previous Winter National to Shane O'Banion, who did not attend this event.

Some people thought that Whibley was waiting to pass Bobbitt at the end but he says otherwise.

"I wasn't purposely hanging back," Whibley told the news source."I was kind of looking for places to pass, but it was kind of hard to find them out here today. I was working hard trying to make some passes on that last lap and I ended up losing some time, but that's the way it goes. It was a good race; we were pushing each other hard."