California Seeks To Trim ATV Program
Chaparral Motorsports
|
February 24, 2011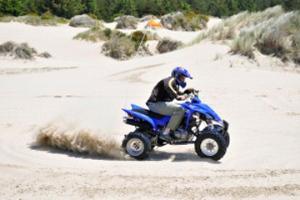 It's the time of the year for budget balancing, and that unfortunately means that many government programs across the country could lose money. In California, a popular ATV program is reportedly one of the many items on the chopping block.

The California Off-Highway Vehicle (OHV) program provides funding for a wide range of state-designated OHV parks, where ATV and motorbike riding is legal and frequently enjoyed. However, the state recently voted to take $21 million dollars out of the program's budget, with an additional $27 million possibly also up for removal when all is said and done.

Dave Pickett of the District 36 MC Sports Committee says that this would effectively cripple a program that has also had $112 million dollars removed over the past three years. Pickett also claims that the state discriminates against the OHV program, as the law states that any budget hits must be equal between the OHV and the State Park programs. However, the State Parks have only been asked to cut $11 million dollars.

In the past, Pickett and other activists took the State of California to court over the issue, and won $21.5 million back for the budget. Pickett says that he is willing to pursue legal action again, but is urging all ATV and motorbike fans in California to take action first by talking to their local representatives.