Police Department Replaces Horses With High-tech Scooters
Chaparral Motorsports
|
February 23, 2011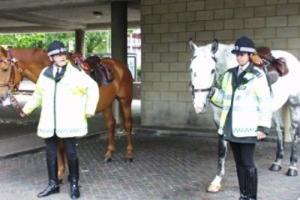 It's always cool to see a police officer mounted on a horse, as it recalls a bygone era. However, horses are quite expensive to purchase and maintain, and many police departments are phasing them out in favor of more effective urban transportation.

For example, the Charleston police department in South Carolina recently announced that they will begin phasing out horses, according to the Post and Courier. While acquiring new transports for officers will be a bit costly, the city believes it will save them money over time.

One of the ways it plans to do so is through T3 Motion Scooters. Charleston police recently purchased four of these zero-emission, fully electric, three-wheeled scooters. Not only are the vehicles great for the environment, but they're cheap too, with the department claiming they only cost ten cents per day to maintain.

In addition, the department has a number of non-motorized bicycles and two 250cc Honda Nighthawks. For a blast from the recent past, they're also in possession of one Segway - at one point believed to play the role that electric scooters now fill.