Larry Pegram To Star In Reality Show
Chaparral Motorsports
|
February 23, 2011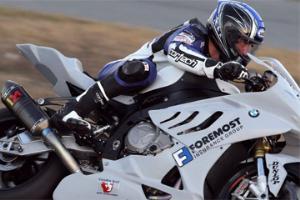 Those who are interested in seeing what the life of a professional racer is really like may want to tune in when Discovery HD Theatre begins airing "Superbike Family" on February 26th at 11 a.m.

The new program follows the life of famous racer Larry Pegram as he prepares to compete in the AMA Superbike series. Pegram runs one of the top independent crews in the series, with assistance from his parents Jim and Mary. He also has a wife, Heather, and two daughters, all of whom will be featured on the show. "Superbike Family" explores the careful balance that must be struck between Pegram's motorsports commitments and the time he spends with his family

"The show is about my dream of becoming a Superbike champion," said Pegram. "Actually, it's our dream. My parents have been helping me race motorcycles since I was a kid and they're still here at every race working on the crew... it's definitely a family effort and we're real proud of what we have accomplished going up against the factory teams. It's not easy but all of us are chasing our dream."

The new reality series is the latest from Chet Burks productions, which also produces the Superbike races and the acclaimed TV show "Cafe Racer."