Cobra Engineering Details New Accessories
Chaparral Motorsports
|
February 22, 2011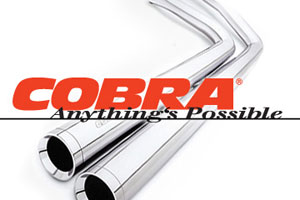 Cobra Engineering is using the Dealer Expo in Indianapolis to launch a number of new motorcycle accessories aimed at improving the performance and comfort of some of the most popular models on the market today.

Perhaps the most significant unveiling is the new Tri-Pro two-into-one exhaust for the Yamaha Raider. This exhaust pipe is available in black or chrome and is designed to increase performance over the stock exhaust. It accomplishes this through a round muffler that morphs into a triple oval shape in the rear. It also features chromed heat shields at the headpipes.

Another performance upgrade for use on a variety of bikes is the new Fi2000 Power Pro with CVT. CVT stands for Continuously Variable Tuning, which means that the fuel settings are constantly being adjusted to achieve maximum performance. The system works with a bike's electronic fuel injection (EFI) system to monitor the air/fuel ratio. The program is able to calculate the ratio at 80 times per second and adjust settings accordingly for optimal speed in any gear.

Finally, Cobra is unveiling a new line of motorcycle accessories for the Honda VT1300 Sabre, Interstate and Stateline. Drivers will soon be able to purchase new sissy bars, a freeway bar, slip-on mufflers and a light bar with integrated turn signals, among other products.