Team SMOG Wins The First Annual Motorcycle Ice Racing
Chaparral Motorsports
|
February 21, 2011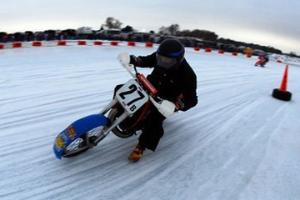 Ten teams recently raced each other on the slick ice for three hours during the First Annual Polar Fest Motorcycle Ice Racing challenge at the Holiday Inn in Detroit Lakes, Minnesota.

There were 27 riders that made up the ten teams who had to race around the one-mile slippery track. Some racers went as fast as 70 miles per hour on the ice in hopes to finish first. However, beating all of the teams and coming out on top was Team SMOG, who completed 132 laps. The group was made up of Bob Buck, Christian Schmidt and Gary Carter, according to the news source

"Everything went well," Scott Laudon, race organizer told the Detroit Lakes. "The turnout could have been a little better, but for the first year, I can't complain."

Team SMOG defeated Rob Newport and Sean Mowry of Team Kawi by just one lap. Third place finishers were Team Old and Older, consisting of Joe Cornelius and Brent Klamer who completed 126 laps. Rounding out the top four was Jake Leclair and Justin Lerhz of Team Puddle. They were able to cycle the track 125 times.