Off Road Support Adds Two New Members
Chaparral Motorsports
|
February 21, 2011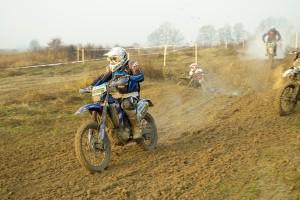 Jacob Argubright and his Off Road Support team have announced that they will be adding two new members to their stable for the upcoming 2011 AMA/Kendra National Hare and Hound Series.

Described as "two of the fastest stroke pilots in the desert" by Argubright, the new team will feature female champ Sarah Kritsch and veteran rider Levi Jones, both of whom will be competing on KTM 250XCs.

Kritsch has captured the District 37 Women's Desert Championship three times in her career, including last season. Now, she'll be looking to capture national gold as she both defends her title and races in the NHHA series.

Levi Jones already has somewhat of a relationship with the team, as his father, Jerry, has worked in the pits with Off Road Support as a mechanic. Jerry specializes in KTM bikes and the team hopes that his knowledge and Levi's riding skill will help catapult them to the top of the series.

"We are really excited to help Levi and Sarah out this season," said Argubright. "Sarah is by far one of the fastest female racers on the planet, and as a member of the team we are just really excited to be a part of her winning results. Levi and Jerry have been in the pits for years now, and it's just fitting that we invite Levi onto the team as a rider!"