2011 San Diego AMA Supercross Results
Chaparral Motorsports
|
February 21, 2011
2011 AMA Supercross round 7, San Diego, CA race results/recap: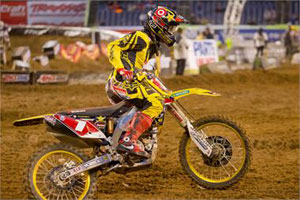 Dungey races back to 2nd in San Diego SX

Ryan Dungey charged back from a mid-pack start to take second place in Saturday night's AMA/ FIM World Supercross seventh round in San Diego, California.


The Rockstar Makita Suzuki rider, who is currently fifth in the standings, closed the gap on leader Ryan Villopoto to 23 points as team mate Brett Metcalfe put in another solid performance on his RM-Z450, finishing eighth overall in the 20-lap Main Event.


Dungey tallied the fifth best time in the day's qualifying schedule, which was delayed and shortened due to weather conditions. In his heat race, he piloted his Suzuki to a consistent fourth-place finish. A good start in the Main put Dungey in fourth place by the end of the first lap.


"The track was actually in pretty decent shape at the start of the Main," said Dungey. "I got a great start right up with the front guys and really tried to put my Rockstar Makita Suzuki in a good position and make no mistakes because the rain was coming down. The track was getting greasy so I just tried to keep my lap times good and not make any mistakes. To finish off with a second was good - a great step in the right direction and one step closer to that win. I'm looking forward to Atlanta. We have press day there so we'll get a chance to check out the track a bit. Atlanta has been really good to me - I really enjoy going back there. The fans are great and it's always one of the biggest crowds."


After qualifying 11th, Metcalfe grabbed a sixth-place finish in his heat race aboard his RM-Z450. A tough start in the Main put him in 11th place at lap one. Metcalfe quickly worked his way up to eighth place by lap four and rode a consistent race for the remainder, crossing the line in eighth place.


"I really enjoyed riding the track tonight," said Metcalfe. "I'm just a little disappointed in my results. I got a bad start in the main - I had a lot of wheel spin at the start because the gate was so slick. I had to fight my way through the pack with my RM-Z a bit but I was a little inconsistent. It was a difficult one, but I still picked up an eighth and I'm happy that my Rockstar Makita Suzuki is still sitting seventh in the points. I need to start pushing and get some better results. I'm glad to go to Atlanta. I've done well there in the past and it's a good layout with a lot of floor space. The dirt is tacky and it suits my style. I look forward to a better result with my Suzuki there."


The 2011 Rockstar Makita Suzuki team's next event is Saturday, February 26th, at the Georgia Dome in Atlanta, Georgia.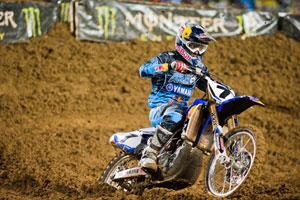 Stewart 3rd in wet San Diego and closes points gap

The rain fell hard on the Qualcomm Stadium in San Diego last Saturday for the seventh round of seventeen in the AMA Supercross series - also an FIM World Championship - but over 53,000 spectators were able to witness San Manuel Yamaha's James Stewart seal a steady third position for his sixth podium result of the season on the YZ450F. Thanks to a first corner tumble and seventh place finish for rival Ryan Villopoto, Stewart was able to shrink the deficit at the top of the class standings to just three points as the series now moves away from the west coast.


The San Diego layout demanded a measure of caution in slick and difficult circumstances and would catch out numerous stars of the SX category. Stewart held second position for a lion's share of the twenty lap main event until he stalled his race-bike with just five circulations left before the flag. He dropped to fourth but kept pushing and was rewarded when Houston-winner Trey Canard slipped off and he made it to the podium ceremony.


"That rut got pretty deep out there and unfortunately I just made a small mistake," recollected Stewart. "I wasn't riding good all day. It wasn't my kind of track, and I just tried to do my best. My team did an awesome job, though and it was a good night and a good recovery from last week, so I just want to keep it rolling."


JGR Yamaha's Davi Millsaps posted his second consecutive top five ranking with fifth while team- mate Justin Brayton placed a third YZ450F on the leader-board with tenth place. Stewart holds a 13 point advantage over Chad Reed, who lies in third in the table, and can potentially overhaul Villopoto if he finishes ahead of the youngster next weekend at the Georgia Dome in Atlanta.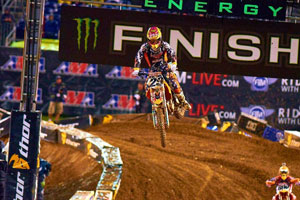 Red Bull/KTM Riders Finish in the Top Ten Two Weeks in a Row

Red Bull/KTM riders Andrew Short and Mike Alessi put their KTM 350 SX-F race machines inside the top ten for the second week in a row this time at the 7th round of the series in San Diego, CA at Qualcomm Stadium.


Rain leading up to the race created a muddy race course for the riders as they headed to the first practice session. Short shined in the first practice turning the 4th fastest time in his session. At the end of the second session Short remained in the top ten fastest times qualifying 9th overall while Alessi qualified 17th.


Both Red Bull/KTM riders earned a gate spot in the second heat. Alessi got a great jump off the start rounding the first corner in 2nd position while Short wasn't as fortunate and came around in 7th. Alessi made a few mistakes on the first lap and dropped to 5th. He then began to battle with his teammate for that position as Short fought his way forward. When the checkered flag flew, Short crossed the line in 5th while Alessi qualified 7th.


KTM fans everywhere were on their feet at the start of the Supercross main event as both Short and Alessi came around the first corner in 2nd and 3rd respectively. It was Reed and Short who competed for the holeshot while Alessi cut inside at the end to put two KTM's into the top three. A few laps into the race Short was sitting 3rd while Alessi had dropped to 6th. Short worked hard to maintain his pace out front while trying to hold off both James Stewart and reigning Champion Ryan Dungey. Unfortunately, both were able to move around Short and by the fifth lap he was 5th with his teammate directly behind him.


The Red Bull/KTM riders did not separate too far away from each other after that. Short and Alessi ran 5th and 6th for the majority of the race. Around the thirteenth lap Alessi began to get heavy pressure from Davi Millsaps. Alessi fought hard to protect his lines and try to keep Millsaps at bay for a good six laps. With three laps to go Millsaps was able to move around Alessi and took over 6th place. Alessi then found himself in a battle with Ryan Villopoto and Brett Metcalfe who had both been trailing Millsaps earlier in the race. Alessi, Villopoto and Metcalfe battled the entire last lap. With three corners to go, Alessi made a mistake in a corner and allowed Villopoto to get by. As he tried to protect his line in the next corner he made another mistake and lost his rhythm losing the next spot to Metcalfe. When Alessi crossed the finish he was 9th overall, marking his best finish so far this season.


"I am bummed that I wasn't able to hang on to my 6th place position which I maintained through most of the race, but I feel really good about my performance today. This is the first race where I kept my pace through all twenty laps and by doing so I was able to better my best finish. I'm pumped to finish inside the top ten with Short for another weekend," remarked Alessi after the race.


Short went on to finish the night in 6th overall after a last lap battle with Millsaps. "I don't consider myself a decent mud rider so I was a little worried about this race. This track was also pretty tricky and there were a few sections that I struggled with tonight. Overall, I am glad to be in the top ten but I really would have liked to finish in the top five," stated Short.


Both riders will now head to Atlanta for the next round of the AMA Supercross Series next Saturday night.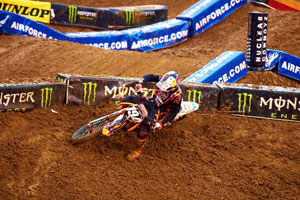 Roczen Climbs to 7th at San Diego Supercross

Red Bull/KTM Team rider Ken Roczen, who set the fast lap and won his heat, suffered a poor start and two crashes before finishing 7th overall at the San Diego Supercross held at Qualcomm Stadium.


At the beginning of the season, a top ten finish may have been exciting for the young rider in his first Supercross season. However, after coming off a podium finish at the last Lites round in Anaheim, Roczen had expected a better result at the San Diego round.


Roczen was confident all day. "I like to ride in the mud and feel that I am pretty good in these type of conditions," remarked Roczen in regards to the muddy track conditions from the light rain that remained consistent throughout the day.


The AMA decided to delay practice due to poor weather to help preserve the track. Around 4:45pm Roczen put his first laps on the track. He performed well and came out with the second fastest time. One session later, he stepped up the pace and put down the fastest lap. His quick time gave him number one gate pick in the second Lites heat.


It was in his heat where he got the crowd on their feet. He pulled a massive holeshot off the gate and led every lap of the six lap heat. Roczen crossed the checkered flag two seconds ahead of Eli Tomac.


In the main event, Roczen was hoping to duplicate his heat race holeshot. "I'm not sure what happened off the start of the main, but it didn't go well. I got a bad jump and then tried to move inside when I was hit by another rider," said Roczen. As Roczen collided with the other rider, he lost traction on the slick first corner and fell to the ground. He remounted in near last position.


As the race continued, Roczen charged as hard as he could and quickly moved from 19th to 13th by the second lap and to 11th on the third. On the fourth lap he was closing in on 10th when he slid out on the corner before the finish. He reported, "The track was so slick in spots, and unfortunately, that second crash was my fault. I just slid out trying to gain a position. The worst part was when I got up I had so much mud on my handlebars it was hard to grip."


Roczen did continue to charge forward. Although the top group had put quite a gap on the field Roczen did not stop giving it his best to gain each possible position. He quickly moved into the top ten and after the halfway point was sitting in 8th. He began closing in on Ben Evans with a few laps to go. As the race dwindled down to three laps to go, Roczen caught and passed Evans and took over 7th position. Roczen would eventually finish the race in 7th overall. "I was really disappointed in my race result tonight. I was riding well all day and was looking forward to finishing well in the main event. I had a bad start, and two crashes. It just is not where I wanted to finish. I know that I can do better and I would like to be finishing on the podium at this point in the series."


Roczen's next plan is to race the Daytona Supercross aboard the KTM 350 SX-F in the Supercross class before returning to Europe to begin training for the MX2 World Championship Series which he will start in April.

2011 San Diego Supercross Results

1. Chad Reed

2. Ryan Dungey

3. James Stewart

4. Trey Canard

5. Davi Millsaps

6. Andrew Short

7. Ryan Villopoto

8. Brett Metcalfe

9. Mike Alessi

10. Justin Brayton

11. Nick Wey

12. Kyle Regal

13. Fabien Izoird

14. Chris Blose

15. Ivan Tedesco

16. Michael Byrne

17. Maxime Lesage

18. Austin Stroupe

19. Weston Peick

20. Kevin Windham

2011 Supercross Overall Point Standings

1. Ryan Villopoto - 146

2. James Stewart - 143

3. Chad Reed - 130

4. Trey Canard - 130

5. Ryan Dungey - 123

6. Andrew Short - 95

7. Brett Metcalfe - 93

8. David Millsaps - 78

9. Justin Brayton - 76

10. Ivan Tedesco - 66

2011 San Diego Supercross Lites Results

1. Eli Tomac

2. Tyla Rattray

3. Broc Tickle

4. Cole Seely

5. James Decotis

6. Josh Hansen

7. Ken Roczen

8. Ben Evans

9. Ryan Morais

10. Kyle Cunningham

11. Antonio Balbi

12. Martin Davalos

13. Ryan Smith

14. Tommy Weeck

15. Nick Paluzzi

16. Casey Hinson

17. Scott Champion

18. Travis Bright

19. Dakota Tedder

20. Kyle Beaton

2011 Supercross Overall Point Standings

1. Josh Hansen - 128

2. Broc Tickle - 125

3. Eli Tomac - 116

4. Ryan Morais - 96

5. Cole Seely - 88

6. Ken Roczen - 83

7. Tyla Rattray - 80

8. Kyle Cunningham - 71

9. Martin Davalos - 69

10. James Decotis - 67