Yamaha's Team Receives Monster Energy's Sponsorship
Chaparral Motorsports
|
February 18, 2011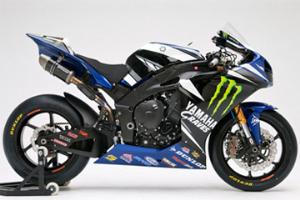 It was recently announced that Josh Hayes and Josh Herrin would participate the American Motorcyclist Association Pro Road Racing Championships while being supported by Monster Energy Graves Motorsports Yamaha.

The M4 Suzuki team consisting of Martin Cardenas and Chris Ulrich lost Monster Energy's backing during the off season, despite riding their sponsored bikes in the Superbike class. Cardenas even wore the energy drink's colors in the Daytona SportBike Class. However, the sponsor decided to go in a different direction.

"Creating the Monster Energy Graves Motorsports Yamaha team connects our brand with one of the most respected racing programs and two of the best riders in the country," said Alex Dunstan, motorsports manager for Monster Energy. "Having the American Superbike number-one plate represent the number-one energy drink in the U.S. is a natural fit for our company and we look forward to kicking off the season at Daytona."

In addition, the conglomerate has also announced that Chris Clark will come back to the Yamaha team under the Yamaha Extended Service/Pat Clark Sports/Graves Yamaha banner. The company will add the HT Moto Racing and Team LTD Racing where Hayes' wife will ride the bike at the Daytona SportsBike class.