More Racers Enter AMA Pro Track
Chaparral Motorsports
|
February 18, 2011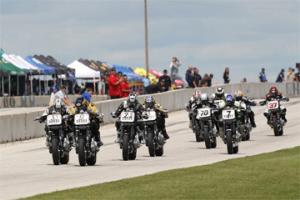 There have been a groundbreaking number of entries for the upcoming American Motorcyclists Association Pro Vance & Hines XR 1200 class, event at Daytona International Speedway, which will be the season opener.

Fifteen racers are currently scheduled to compete, including Chris Fillmore, who was recently signed by RMR Bruce Rossmeyer Daytona Racing Revolution Performance. It is expected that more late entries will be announced February 18. The high amount of participants is a positive sign for the series, as there were only 9 racers at the Road America and just 11 at the season finale at Barber Motorsports Park last year, according to Cycle News.

"We're really happy to have Chris on our bike this year," Richie Morris, team owner, told the news source. "He has a lot of talent and is a very promising racer and impressed the team at the Daytona test. We took Danny Eslick's advice. He thought Chris should be the guy. Chris has experience riding the larger bikes and we think that will help in this class."

Chris Fillmore, who will now be teammates with Kyle Wyman and Michael Corbino, said he is excited for the chance to ride with a team that has won a championship and can't wait for the upcoming season.