Monster Energy Yamaha MX2 Crew Readying For Pre-season
Chaparral Motorsports
|
February 17, 2011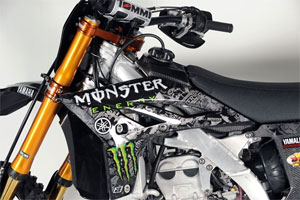 The factory MX2 collective of the new Monster Energy Yamaha team are preparing to flex their racing muscles for the first time in 2011 with the Starcross International event at Mantova in Italy this weekend. Gautier Paulin, Harri Kullas and Christophe Charlier will place their YZ250FMs in the gate at the renowned sandy circuit for what will be the opening meeting in a busy pre-season period.


Paulin, entered by the Rinaldi faction of the crew and beginning his second year with Yamaha, has been counting the practice laps in southern France and completed a successful suspension text two weeks ago. The 20 year old has been running further tests on a new motor in Italy for the 2011 Grand Prix campaign that gets underway at the fast and hilly Sevlievo layout in Bulgaria on April 10th.


Like Kullas and Charlier, Paulin will contest the initial rounds of the Italian Championship at Ponte e Egola and Faenza to dial-in his machine ahead of the first round of fifteen in the FIM MX-GP World Championship.


Charlier is the defending Italian number one and the talented French teenager has been busy over the winter period in his native Corsica. The 2009 European champion will enter all four of the Italian national dates. "I have been working hard and been riding in the sand twice a week," the nineteen year old said. "I have tested the bike once and I already find it improved to 2010 but we will work more in March, before, during and after the Italian Championship events, so that we are ready to go in Bulgaria. I don't have a specific aim for 2011 other than to go as fast as I can, but to get inside the top five of the championship with some podium results would be good."


Like Charlier - and in fact the Gariboldi technical squad that will field the two youngsters - Kullas begins just his second term at the highest level. The Finn has been active in Spain, Belgium and on home turf during the off-season. "Training has gone well," said the eighteen year old. "I have changed my trainer this year but not really any of the methods. We had five weeks in Spain with good weather and decent tracks and then I headed back to Finland before moving to Belgium where I am based for the season. Getting good riding time is now my priority. We go to Italy next week and we will work more with the race bikes; I have been using the stock version until now and it has been absolutely fine."