Harley Touts Customization Program With Crowdsourced "cages" Commercial
Chaparral Motorsports
|
February 16, 2011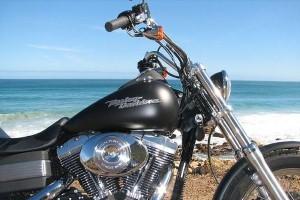 Harley-Davidson is making waves in both the biker and advertising community with a new marketing concept pioneered by the ad agency Victor and Spoils.

Victor and Spoils is a new age ad agency founded on the idea of crowdsourcing - soliciting ideas from a large group of people and picking the best. Harley-Davidson partnered with the company to create a new ad campaign that would highlight the company's HD1 customization program, which lets riders build a highly-specific bike online.

The result was "No Cages," a new commercial pulled from the many submissions that Victor and Spoils received. The spot features a small town where everyone moves about in cages - a lady walking her dog is surrounded by a steel cage, complete with clanging noises, as is the bus driving down the street. At the end of the ad, a rider comes blazing by on a Harley - the only person in the spot not in a cage.

The concept came out of the motorcycle community's slang term of "cages" for cars. Essentially, it takes that thought process and applies it to other bikes - why be restricted by the manufacturer's paint scheme and specifications when you can customize to your heart's content?

It remains to be seen whether the HD1 program catches on with riders, but the commercial appears to be a hit within the advertising community, with many praising the concept and design.