Alpinestars' New Tech 8 Boots
Chaparral Motorsports
|
February 15, 2011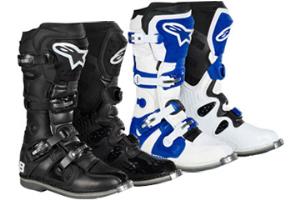 The Tech 8 boot, created by Alpinestar, is made from full grain leather that is stitched to the soles and has metal sole tips and heel caps. These motorbike boots are CE-certified and have several modern features such as polyurethane on the shins, sides and ankles. This allows the boot to be stronger against impact and other forces.

The shoes are actually two in one. There is a small, soft, leather bootie with a cushioning foam sole which have impact-absorbing gel inserts that cover the ankle. Then there is the exterior, hard and protective boot. The boots close by Velcro and four alternating, burst-resistant buckles, which can be easily adjusted. They also have a large, flexible thermoplastic polyurethane to prevent water and mud from seeping into the shoe.

Like most motocross boots, the Tech 8s are stiff but still offer a high amount of protection. The intricate closing system offers a snug fit however, so the user may not feel comfortable in the shoe right away.

Alpinestars claims the boots can fit a number of different foot sizes. However, they only come in whole sizes from 5 through 15. Riders who are in between sizes may find it difficult to feel comfortable in a pair.

The Tech 8s come in white, black, white and red, and white and blue and cost $429.95.