Mecum Auctions Expands To Bikes
Chaparral Motorsports
|
February 14, 2011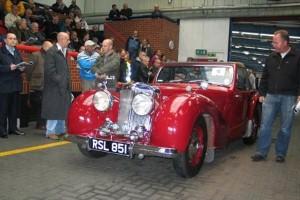 Mecum Auctions, perhaps best known among motor enthusiasts as the organizer of classic car auctions, has announced that it will be expanding into motorcycles with a new bike division dedicated to rare and unique models.

The new venture will be headed by AMA Hall of Fame member Gavin Trippe, who worked as a racing promoter and journalist over his long career. Trippe also has experience with auctions and rare collections. Some of his previous involvements include include the 2006 and 2007 Monterey Classic Bike Auctions and the Barber Motorsports Vintage Museum.

"The motorcycle fraternity has been largely ignored in the current auction market, but now there will be a major platform to expose rare and valuable bikes to collectors," said Trippe. "The beauty of collecting bikes is that five bikes can occupy the same space as one car and you can ride many of them, or even hang one on the wall of a 'man cave' or corporate office!"

Mecum is already accepting consignments of classic motorcycles for two upcoming events: Dana Mecum's Original Spring Classic Auction in May and the Monterey Auction in August.