Kansas Bikers Seek Red Light Exemption
Chaparral Motorsports
|
February 14, 2011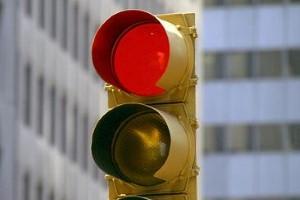 Motorcyclists in Kansas are seeking to enact a new law that would allow them to ride through "dead red" lights, or red lights that don't turn green, after a reasonable amount of time waited.

Many bikes don't have the required mass to trigger the sensors underneath the pavement that cause lights to change, the Wichita Eagle reports. During the day, this isn't typically an issue, as a car stopped at the same light will usually trigger the sensor. However, riders say that late at night, the only way to proceed is to illegally run the red light.

Riders from A Brotherhood Against Totalitarian Enactments (ABATE) testified at a recent meeting of the state's House Transportation Committee.

"This is a very common issue we are facing and it is statewide, not just in Topeka," said rider Tony McClelland.

The law is opposed by two separate police organizations, who argue that the law could lead to complications with cases where lights were unlawfully run. Riders could claim that the light was stuck and potentially be let off the hook, when in actuality they were just breaking the law. The police groups also said the matter should be left to officer discretion.