Caselli Dominates Ridgecrest Hare & Hound
Chaparral Motorsports
|
February 14, 2011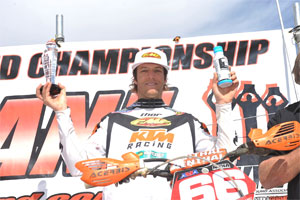 FMF/KTM Factory Team rider Kurt Caselli dominated the second round of the AMA Hare & Hound Series held in Ridgecrest, CA when he crossed the checkered flag 8 minutes ahead of the next closest competitor.


The weather was perfect for the second round of the series with temperatures in the high sixties. In typical Hare & Hound style the track was incredibly dusty as it had not rained at the race location in quite some time. The course was made up of three loops. The longest loop was the first at 48 miles with a second loop of 31 miles and the final loop a short 17 miles.


Caselli initially had a bad start, unable to fire his bike right away. He eventually got off the line about 5 seconds behind the group. The dust was so thick at that point, that he had to veer from the original line he had picked down the bomb run. As they neared the final stretch of the bomb he was able to move back into his original line. Feeling more comfortable in his chosen line, he worked his way up into 3rd place before they headed to the narrow single-track.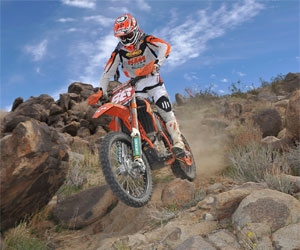 Shortly into the first loop Caselli caught and passed the 2nd place ride of David Pearson. A few miles later the leader was within his sight. As the race continued Caselli closed the gap on current leader Kendall Norman to about 10 seconds. As Caselli closed in, Norman took a spill and handed the lead to Caselli before the halfway mark of the first lap. Once in the lead, Caselli charged forward at an incredible pace. At the 48-mile mark, and the team's first gas stop, Caselli had already laid down a 4 minute lead.


Caselli continued his pace on the second loop and doubled his lead before the next gas stop. Now 79 miles into the race, Caselli had an 8 minute lead on the competition. For the remainder of the race, Caselli maintained his pace and went on to safely cross the line and take the win by over 8 minutes on the rest of the field.


"It feels really good to get a win here after an unlucky result at the first round. My bike ran flawless today. Factory Connection made some suspension improvements between the last race and this round that helped a ton and overall it was a great ride today," commented Caselli.


With two rounds down, Caselli currently sits 2nd in overall points just 9 points away from the lead spot in the title chase. The next round of the AMA National Hare & Hound Series will be held in El Centro, CA on March 6, 2011.

Overall Results:

1. Kurt Caselli - KTM

2. David Pearson

3. Destry Abbott

4. Kendall Norman

5. Jacob Argubright

6. Carl Maassberg

7. Colton Udall

8. Justin Morrow

9. Quinn Cody

10. Robert Underwood

Overall Points:

1. David Pearson - 55

2. Kurt Caselli - 46

3. Destry Abbott - 46