Find The Perfect Cruiser Motorcycle
Chaparral Motorsports
|
February 14, 2011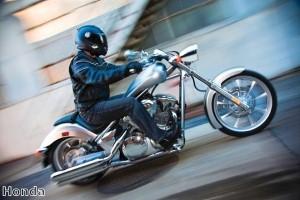 Drivers who are considering buying a motorcycle have many important decisions to make, but one of the most important ones in what kind of style they're interested in. From cruiser bikes equipped for the open road to sport bikes specifically designed for racing, buyers must choose their preferences before they start shopping.

Cruiser motorcycles, frequently grouped with custom bikes, are the "road warrior" of motorcycle styles. These bikes put a high priority on looking good - whether it's a sleek all-black design or covered in chrome. Yet these bikes aren't all form and no function. A cruiser is specifically aimed at riders who prefer longer journeys. Everything from the handlebars to the riding position is designed to maximize a rider's comfort over far distances.

Common Cruiser Motorcycle Features
The cruiser lifestyle is all about leisurely and comfortable riding. The bikes are big, sometimes unwieldy, and you'd really have to try to not look cool while riding one.
When buying a cruiser, riders should keep in mind that these bikes aren't all about blowing by the competition. Sport bikes will likely take down cruisers in a drag race almost every single time. The cruiser lifestyle is all about leisurely and comfortable riding. The bikes are big, sometimes unwieldy, and you'd really have to try to not look cool while riding one.

It's worth noting that these bikes are typically not the best choice for beginners. It's not impossible to learn how to ride on a cruiser, but it is a bit more challenging than some other bikes. One plus is that the seat height is so low that shorter riders will likely be able to touch the ground at all times. But the placement of the footpegs and high handlebars can be a bit awkward for riders who aren't comfortable with them. Cruisers also tend to be quite a bit larger than other vehicles, meaning riders will have to have some strength and skill to control them.

That being said, there's no reason that new riders set on this type of motorcycle shouldn't make their first bike a cruiser - it just might help to take a few lessons first before making the commitment.

Cruiser Motorcycle Types
Power Cruisers / Muscle Cruisers
There are also a few subdivisions within the cruiser set. A power cruiser, sometimes called a muscle bike, puts a premium on performance. These machines pack a big engine and can typically be identified by the signature roar that can be heard from a mile away.

Choppers
Another variant of the cruiser bike segment is the chopper. Perhaps best known as the specialty of Harley-Davidson, choppers may just be the ultimate "cool" bike. With a super-low riding position, extended front wheel and long handlebars, the chopper is the choice for riders who want to grab some attention while cruising down the road.

Standard Cruisers
Fortunately for riders interested in the cruiser market, there are plenty of options. Cruiser fans are among the most numerous and vocal in the motorcycle community, and the industry has been booming with interest in these bikes as of late. In fact, nearly every manufacturer has multiple models available for riders to choose from.

Ultimately, deciding which bike is right for you will come down to a number of factors. Do you live in a quiet neighborhood? Then maybe that roaring engine isn't completely necessary. Commuters will want a bike that handles well in traffic, isn't too bulky and gets good gas mileage. Whereas someone who's planning a long road trip will likely prioritize features like seat comfort, well-adjusted handlebars and plenty of storage space. There may still be other riders out there who first and foremost want their bike to look (and sound) awesome, with the rest of the factors taking a backseat.

To help make the process a bit easier, here's a quick look at five of the top cruiser models available today.

Honda Fury
[caption id="" align="alignright" width="300"]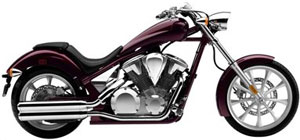 2011 Honda Fury[/caption]

Honda is a brand that is typically associated with sport bike styles, but the company has received a considerable amount of acclaim for the sleek Honda Fury. Those going for style will definitely appreciate the Fury's sharp angles, extended front wheel and liberal use of chrome. Drivers can also customize the Fury with their choice of metallic red, orange and pearl white options.

That's not to say that the Fury lacks in the performance department, as it's powered by a massive 1,312cc V-Twin engine. Those planning long trips will appreciate the Fury's 46 miles per gallon EPA rating. The Fury's price tag of $13,000 puts it in the middle range of cruiser bikes.

Victory Kingpin
[caption id="" align="alignright" width="300"]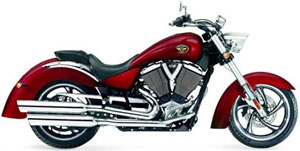 2011 Victory Kingpin[/caption]

Slightly more expensive is the $15,000 Victory Kingpin. The Kingpin evokes a classic style with its crimson and black paint scheme complimented by chrome. Riders who choose this bike will be packing plenty of power, as the Kingpin 1,731cc four-stroke V-Twin engine produces 113 lb-ft of torque. Victory has also outfitted the 2011 Kingpin with a new 100,000 mile six-speed overdrive transmission.

Suzuki Boulevard M109R
[caption id="" align="alignright" width="300"]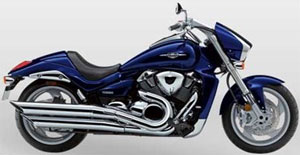 2011 Suzuki Boulevard M109R[/caption]

Did the "power cruiser" description above catch your eye? Then check out the Suzuki Boulevard M109R. The manufacturer claims that the Boulevard "recreated" the power cruiser market, and it's hard to disagree. A price tag of $14,000 puts it between the Kingpin and Fury, but it offers drivers better performance than both. That's because the Boulevard is powered by a 1,783cc V-Twin utilizing Suzuki's fuel injection system.

However, the Boulevard doesn't sacrifice on style. Riders won't be sitting as low as some of the other power cruisers, but the bike's bright blue paint scheme and flowing lines are sure to turn some heads.

Yamaha V-Star 950
[caption id="" align="alignright" width="300"]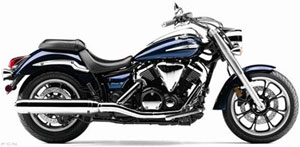 2011 Yamaha V-Star 950[/caption]

For those who want to spend slightly less on their cruiser, there are quite a few options in lower price ranges. The Yamaha V Star 950 starts at $8,290 and offers riders an ultra-low seat height of just 26.5 inches. It's a touch lighter than the other bikes mentioned, making it a bit more maneuverable as well. Despite the decrease in price, this bike is no slouch in the performance department, powered by a 942cc 4-stroke V-Twin with a five-speed transmission.

In terms of styling, riders have the option between a dark blue scheme with chrome highlights, or a black paint job that minimizes the chrome in order to achieve a sleek and classic look.

Kawasaki Vulcan 900 Classic
[caption id="" align="alignright" width="300"]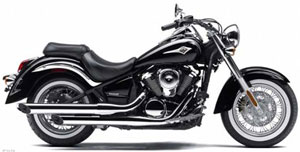 2011 Kawasaki Vulcan 900[/caption]

Finally, the cheapest of the bikes profiled here is the $8,199 Kawasaki Vulcan 900 Classic. The Vulcan goes for a retro, minimalist look with whitewall tires and an ebony paint scheme. It might just be the best-looking of the bikes mentioned, with two large chrome exhaust pipes immediately catching the eye. That being said, riders still get a powerful 903cc engine producing nearly 60 lb-ft of torque.

Whether a rider is looking for styling or power, they can find the right bike for them when they choose a cruiser.