BPG Uno Can "transform" From Scooter To Bike
Chaparral Motorsports
|
February 14, 2011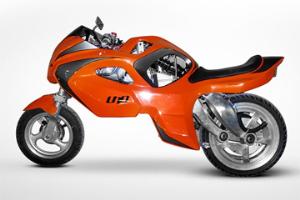 A Cambridge, Massachusetts, company has unveiled a new vehicle that may just be the world's first actual "transformer."

The BPG Uno starts out as an awkward-looking scooter, with the rider hanging on much like a Segway. In this mode, the vehicle uses two wheels to power forward and can be ridden on sidewalks or in crowded pedestrian areas.

But while in motion, the vehicle can actually "transform" into a three-wheeled mini bike. The two wheels used for the scooter stay in the back and come a bit closer together to look like a large back wheel. A smaller third wheel than extends out front as the rider seamlessly transitions to a seated position.

This bike is approved for use on roadways and runs entirely on electric power. It's expected to retail for between $5,000 and $7,000.

According to the Boston Globe, the innovative device was invented by Benjamin Gulak, an MIT mechanical engineering undergraduate. Gulak founded BPG and a sister company in Canada named BPG Werks. The Cambridge-based BPG is working on marketing and selling the Uno, while the Canadian company is planning to debut the "DTV Shredder," which Gulak describes as similar to a jet ski on tank treads.