AFX Releases Two "dual-visor" Beanie Helmets
Chaparral Motorsports
|
February 11, 2011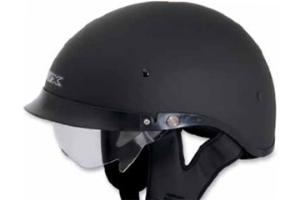 AFX has announced the release of two new beanie-style motorcycle helmets, with an innovative system that's sure to please cruiser fans.

The new FX-200 and FX-72 are both designed to offer riders protection while maintaining a stylish look. For riders who want the ultimate protection, the FX-200 is their best bet. Made of a fiberglass-reinforced shell, this helmet is the sturdier of the two offerings, and is available for $95. The FX-72 is $20 cheaper, but doesn't use fiberglass. Instead, the protective shell is made of a thermoplastic poly-alloy, which is still sturdy but not as expensive.

Perhaps the biggest selling point of the two helmets is the company's patented dual-visor system. Cruiser fans know that a visor is all important when selecting a helmet, as it not only protects the eyes but can improve vision on the road. Yet depending on the lighting conditions, one shade is typically preferable to the other.

Rather than uninstall and reinstall different shades, the FX helmets feature a drop-down system where the visors slide down from inside the helmet. A clear visor for nighttime riding and a smoke visor for daytime riding are both included, meaning that riders can adjust their view push of a button.