Harley Details New 1200 Sportster Customization Options
Chaparral Motorsports
|
February 9, 2011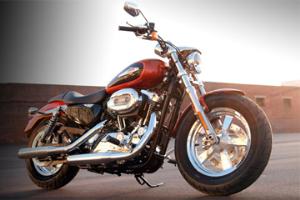 Harley-Davidson has pulled the lid off of its new 1200 Sportster cruiser bike, a model that will be among the first to show off the company's new HD-1 customization program.

Immediately noticeable on the bike are the wide-front end and heavy 16-inch tire, a styling option that Harley describes as Fattitude. This bike isn't all style and no substance, however, as it's powered by a serious 1200cc V-Twin engine that features Electronic Sequential Port Fuel Injection.

Perhaps the most intriguing feature is the wide variety of options available through the customization program. Harley is offering riders the ability to customize their bike to suit their own style without changing the base price of $10,299.

The bike builder on Harley's website can be used to customize seven different areas. For the wheels, riders have the option of chrome laced or black laced, and they can add a black paint job to the engine as well. Riders can add a solo seat, security system, or mid-mount foot controls if they desire, and they have the choice between drag bars or mini-apes for their handlebars. There are even a dozen paint options in single shade or two-tones.

In addition to the HD-1 customization, the company will also be releasing a set of optional motorcycle accessories for use on the new model.