Ultimate RZR - 2011 Polaris Ranger RZR XP900 Review
Chaparral Motorsports
|
February 8, 2011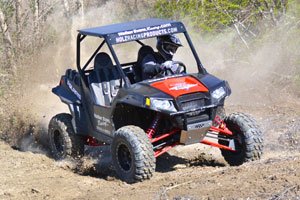 Polaris has taken a page from the racing community, and come up with a whole new high performance version of the RZR that stands apart from the crowd. The new
RZR XP 900 is their latest addition to the Ranger RZR line, and quite simply, is one of the hottest UTVs to debut from this American manufacturer in some
time.

It represents a whole new class of high performance UTVs joining their already expansive sport utility vehicle line up. Here is what makes it so special.
The XP 900 has a brand new, 88 horsepower, 875cc twin cylinder four-stroke engine with Electronic Fuel Injection (EFI). This motor cranks, and offers
impressive power to weight on a new chassis that has been designed from the ground up, to be state-of-the-art.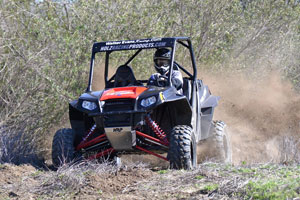 The XP also comes with an all new 3-Link trailing arm, Independent Rear Suspension (IRS) system, with 13-inches of boulder clearing ground clearance and
14-inches of cushy travel. It is extremely light weight for its size (1190 lb. dry) with a very low center of gravity, that helps improve performance and
enhance its cornering. abilities.

Motor City
The heart of this beast is its new, from the ground up, engine. It has been specifically built for extreme performance, and uses Polaris ProStar 900
four-stroke powerplant. This perky four-stroke twin features Dual OverHead Cams (DOHC), extra large valves, for high RPM power, and a 180 degree balanced
crankshaft for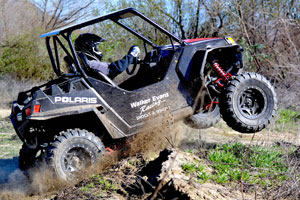 improved performance. The end result is faster throttle response, quicker acceleration, and seat-of-your pants explosive power. From personal
experience, we can tell you that if you hit the throttle hard, especially off a jump or rise, of in the sand, you can get this thing to wheelie. Something we
can't say we have done with any other stock engined UTV.

While we did not have a chance to run it against it primary competitor, the Can-Am Commander 1000, the Polaris XP900 does feel quicker once the clutching
starts to kick in. In their testing, Polaris says it is 29% quicker than the next closest competitor. We will have to wait to see if this is true for
ourselves in a follow up comparison test.

One thing is for sure. The XP 900 does not lack for power and hook up. A lot of this is possible thanks to its 88 HP, lightweight engine design, and its
total vehicle weight, which gives it amazing power to weight characteristics.


Getting all the power to the ground
The Polaris ProStar 900 engine, with its lightweight and capable automatic transmission, allows all that engine power to make its way to the ground. It has
less driveline noise and is lighter weight, than most of its same size (and larger) competitors. The auto transmission design also features a helical cut
final drive system, that is quiet, yet maximizes efficiency.

Suspension
When it came to outfitting the XP for the rough, the Polaris engineers decided to use a non-conventional (for UTVs) rear end 3-link trailing arm Independent
Rear Suspension (IRS) system. They designed the all-new 3-link trailing arm IRS to help get that massive power to the ground and hooking up. The new 3-Link
design consists of two extra-long radius rods, and a far forward-connecting trailing arm, which results in a strong yet lightweight design that can handle
punishment without tweaking and help smooth out the rear end.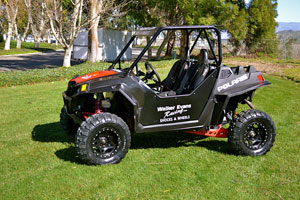 The new trailing arm suspension offers up 14 inches of plush travel with the stock Fox podium X shocks. Our particular test machine was outfitted with a set
of Walker Evans race tuned front and rear shocks on it, but the stock Fox Podium series would be fine for most trail riding applications.
Up front, the XP comes with double arms that offer up 13.5 inches of travel in a conventional double A-arm system that handles handles and operates smoothly
with the trailing arm rear end. Again, since our machine is a Race Model from the ground up, it came with Walker Evans shocks on the fore and aft ends,
instead of the stock Fox podium series units.

Given the fact that there is an ample amount of ground clearance (13 inches) you don't have to worry about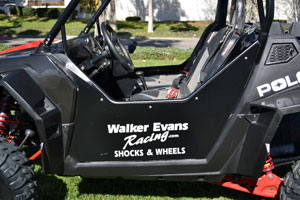 hanging the skids up on most rocks or obstacles.
Thankfully though, the machine does not have a tipsy, or overall tall feel to it.

Thanks to its patented engine-behind- the-seat design, and rear weight bias chassis, the XP delivers razor-sharp turning, quick steering, and an agility and
performance, on the trail, that is unmatched in the current UTV sport market.

Handling
Thanks to the new 3-Link race inspired rear suspension, the Polaris AWD system, and its smooth torquey powerband, the XP is a dream to drive through corners
and down straightaways. The XP 900 tires actually lean into the corner through the suspension travel, allowing for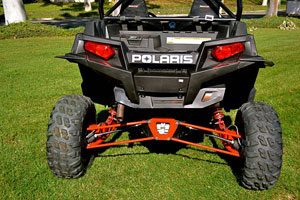 more tire surface to contact the ground.
This in turn helps to create positive tire camber for improved control. The rear trailing arms also help to minimize wheel scrub letting you keep the back end
tracking and straight. Overall, the handling is tight, easy to steer, and very predictable. The real fun is pitching it into a turn and knowing you can hit
close to 75 mph down the following straight-away.

Overall Conclusions
The new Polaris Ranger RZR XP 900 is the best sport UTV yet to be designed, built, and manufactured right here in the good old USA. It is bigger (but not
heavier), better suspended (but not overly tall), blazing fast (but not loud), and nimbler than anything currently available.

Even in stock configuration, it gets the job done, and remains at the top of any list of high performance UTVs you might want to consider. Sure the MSRP price
of $15,999 is steep, but Polaris will not have a hard time finding buyers willing to shell out that amount for this new King of the Sport UTVs. Long live the
new king.

2011 Polaris Ranger RZR XP 900 Specs
Engine
Engine Type: 4-Stroke DOHC Twin Cylinder
Displacement: 875cc
Fuel System: Electronic Fuel Injection
Cooling: Liquid
Drivetrain
Transmission/Final Drive: Automatic PVT P/R/N/L/H; Shaft
Drive System: On-Demand True AWD/2WD
Suspension
Front Suspension: Dual A-Arm Fox Podium X 2.0 (comp adjust/res.) 13.5" (34.3 cm) Travel
Rear Suspension: Trailing Arm Fox Podium X 2.0 (comp adjust/res.) 14" (35.6 cm) Travel
Brakes
Front/Rear Brakes: 4-Wheel Hydraulic Disc with Dual-Bore Front Calipers
Parking Brake: Park in Transmission
Tires Wheels
Front Tires/Model: 27 x 9-12; ITP 900 XCT
Rear Tires/Model: 27 x 11-12; ITP 900 XCT
Wheels: Cast Aluminum
Dimensions
Wheelbase: 81.4" (206.8 cm)
Dry Weight: 1,190 lbs. (539.8 kg)
Overall Vehicle Size (LxWxH): 108.4" x 64" x 73" (275.3 x 162.6 x 185.4 cm)
Ground Clearance: 13" (33.0 cm)
Capacities
Fuel Capacity: 7.25 gal (27.4 L)
Bed Box Dimensions (LxWxH): 23 x 38 x 10" (58.4 x 96.5 x 25.4 cm)
Box Capacity: N.A./300 lb (136.1 kg)
Payload Capacity: 740 lb (335.6 kg)
Hitch Towing Rating: N.A.
Hitch/Type: None
Features
Cargo System: Lock & Ride
Lighting: White LED, High/Low
Electronic Power Steering: Not Equipped
Instrumentation: Digital Gauge, Speedometer, Odometer, Tachometer, Tripmeter, Hour Meter, Clock, Gear Indicator, Fuel Gauge, Hi-Temp/Low-Batt
Lights, Coolant Temp, DC Outlet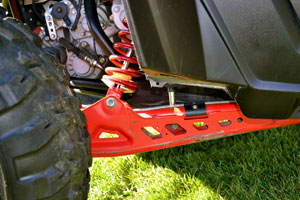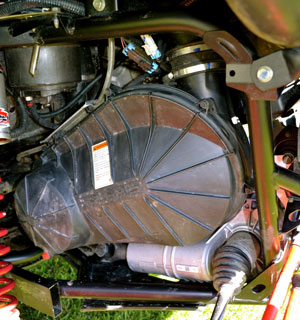 Courtesy of Offroad Illustrated: