AGV Debuts Two New Helmets
Chaparral Motorsports
|
February 3, 2011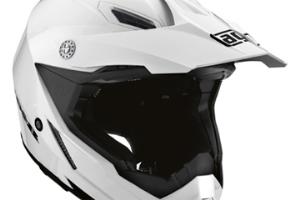 AGV has announced the debut of two new motorcycle helmets, aimed at motocross racers and street riders alike.

The new AGV AX-8 and AX-8 Dual offer protection for two distinctly different types of riders. The AX-8 is the basic helmet that will be suitable for riders primarily focused on motorcycle competition. AGV claims that it designed the helmet using input from a host of famous racers, including Travis Pastrana and Davi Millsaps. A carbon-fiber frame offers superior protection, while still allowing for the comfort that top racers desire.

Of the two, the AX-8 Dual is the more versatile, offering three separate configurations. The base version, featuring a peak on the top, closely approximates the AX-8. However, a removable visor can be added for riders who want to take their bike on the trail, and the peak can also be detached for those looking to do some street riding.

Both helmets also feature a Dry-lex internal padding that is both removable and washable. Front air vents located near the chin can also be removed, allowing riders to customize their experience.

The helmets are in motorcycle stores now, with the AX-8 retailing for $379.95 and the AX-8 Dual at $399.95.