Stoner Looks Good In Testing
Chaparral Motorsports
|
February 2, 2011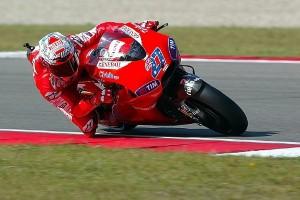 Casey Stoner started off 2011 on the right foot by posting the fastest time at the first official test of the MotoGP season, edging out defending champion Jorge Lorenzo.

Stoner, making his debut for Repsol Honda, was able to top the 17-rider field by posting a time of 2:01.574 on the track at Kuala Lumpur, Malaysia, beating out Lorenzo's time of 2:01.977.

"Very positive day," Stoner told Cycle News. "At the beginning it took some time to get used to the bike again, but I soon felt comfortable and we had a good day. We didn't change the set-up too much compared to the one we had in Valencia and I am pleased to see that even if the circuit is different, it still works pretty well here in Sepang."

While Stoner and Lorenzo look ready for the MotoGP season, there were some disappointing times posted in the test. Ducati teammates Valentino Rossi and Nicky Hayden placed 12th and 13th respectively, nearly two seconds away from where they'll want to be once the season starts. Rossi chalked the poor showing up to some lingering pain after his shoulder surgery, while Hayden said that the bikes need work before they'll be ready for competition.