Lorenzo: I'm Number 1
Chaparral Motorsports
|
February 1, 2011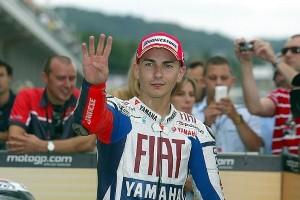 Jorge Lorenzo has announced his intention to wear the number 1 during the upcoming 2011 MotoGP season, an honor only available to the current defending champion.

Lorenzo rode away with the title last season and set numerous records in the process, including the most points scored in a single season with 383.

By choosing to display the number 1, Lorenzo becomes the first Yamaha rider since Wayne Rainey in 1993 to use the number. However, Rainey was defending his third consecutive championship at the time.

The new design incorporates Lorenzo's initials, as the two are placed side by side and exaggerated to give the outline of a "1."

"Today I can reveal my No. 1," said Lorenzo. "I am very proud because you have to work very hard to have the option to wear it. I have been lucky with my design because the No. 1 works really well with my JL initials, maybe with different letters it would have been difficult to make it look right. I hope my fans will like it!"

As for his old number, 99, Lorenzo says the number is "in my heart" and will most likely be displayed somewhere on his motorcycle apparel.