Electric Moto Corporation Secures Funding
Chaparral Motorsports
|
February 1, 2011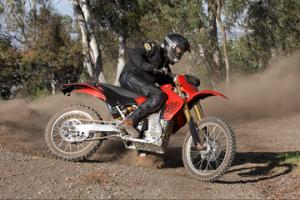 Electric Moto Corporation, which is looking to bring several electric-based vehicles to market, has announced that it has secured funding from an unnamed investor, furthering the possibilities for the company's expansion.

While the company has yet to disclose the source of the funds, it said that the deal will allow it to "move swiftly" into production on a number of its products. Currently, the company only has an electric motorcycle for sale, the EMAX 72DS, but it has released concepts of a number of other vehicles.

"We are pleased indeed to have found a funding source that shares our vision of the future. We expect to be able to disclose the full details of this financing package shortly," said Robert Lancellotti, Chairman of the company's Board of the Directors. "Suffice it to say that in this difficult economic climate, our ability to finalize this deal will prove immensely valuable to the firm and its shareholders."

In addition to the motorcycle, Electric Moto has made public its plans for several other personal vehicles based on the technology it has developed, which has four patents pending. The company has designs for an electric bicycle, ATV, scooter, jet ski and possibly even a catamaran.