Victory Debuts New High-Ball
Chaparral Motorsports
|
January 25, 2011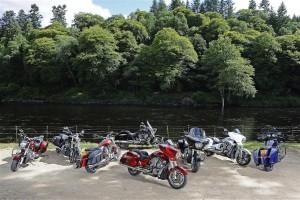 The calendar has just turned to 2011, and that means it's time for the very first 2012 models to begin hitting the showrooms. What better way to start off the year than with the all-new 2012 Victory High-Ball?

Modifications and tons of chrome can be nice, but that's not what the High-Ball is all about. This is a model that Victory describes as "stripped down," "bare bones" and filled with "old-school styling." Many modern cruisers put functionality above all else, seeking to maximize storage capacity or offering a slew of unorthodox options designed to grab the eye. Instead, the High-Ball seeks to get back to basics with a classic, sleek design that's sure to appeal to cruiser fans.

That's not to say that the High-Ball can't cut it when it comes to performance. The High-Ball borrows the Victory Freedom 106/6 Stage 2 V-Twin from the Victory Vegas, one of the company's top-selling bikes. Yet the High-Ball features the second-lowest seat of any in the company's lineup and comes with adjustable handlebars so that riders can be sure they're in the most comfortable position possible.

The new High-Ball is available now for an MSRP of $13,500.