Handguard Install: Quick & Easy
Chaparral Motorsports
|
January 18, 2011
|
Last Updated: August 7, 2020
Winter Time Ride Protection From Acerbis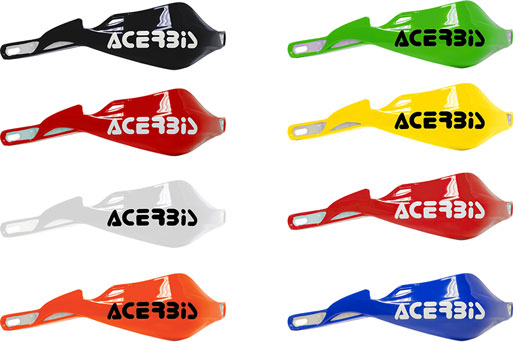 When it comes to protecting your hands from winter temperatures (and anything else out to rap you on the knuckles) a good set of handguards is invaluable. It is also one of the best places to keep your pinkies pink, instead of frozen solid and smashed.
To make our Yamaha WR450 more compatible with colder weather riding, we installed a set of Acerbis (pronounced Aa-Cher-bee) Rally Pro X-Strong Handguards. These units come in a wide variety of color choices, and styles for woods, trail, motocross or any other use you can think of. They are both durable, and easy to install.
Acerbis sells a Universal Mount kit, which we nabbed for our Yamaha through Chaparral Motorsports. They come with everything you need to mount up a set of hand guards to your machine in as little as 30 minutes. You can order Acerbis (or other makes) of handguards (and handguard install kits) for ATVs or dirt bikes, directly from Chaparral Motorsports. Prices range from around $30 for your basic plastic guard, to around $80+ for complete install kits, with aluminum reinforcement bars, similar to ours.
Acerbis Rally Pro Handguard Install Procedure
In our install kit we had plenty of extras, including spacers for extending the mounts, and extra bar ends. Since our Yamaha WR450 comes with Pro Taper "Fat" bars standard, we didn't need all the extra spacers. Since one picture is worth a thousand words, we thought we'd give you seven pictures, instead of typing an additional seven thousand words for this install... here goes.
You will need to trim the grip ends to allow the Acerbis handguards to fit.
If necessary, drill out the throttle side of your bar ends, to allow the outside inserts to fit in. We used a 1/2" drill bit on ours
Check the fit of the outside bolt and insert before assembly.
Since Yamaha uses Pro Taper "Fat" Bars, you won't have to use any of the Acerbis spacers supplied with the install kit.
After installing the Y-bar supports loosely, go ahead and snug everything up.
Make sure nothing is snagging and that the controls work properly before starting your bike back up.
You're done. You've added protection and made your winter outing that much more comfortable.