KTM Celebrates Fantastic Tenth Consecutive Dakar Rally Victory
Chaparral Motorsports
|
January 18, 2011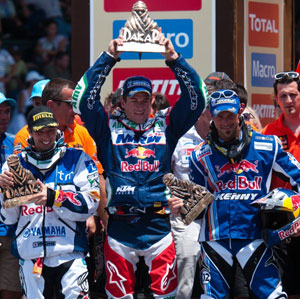 KTM on Saturday wrote another chapter in its history when the sports motorcycle market leaders celebrated taking its tenth consecutive Dakar Rally title. The race was won in heroic style by Marc Coma closely followed by Cyril Despres, who between them have taken the past six Dakar titles for the Austrian brand. The victory also heralded an aggressive new era for KTM in rally sport, according to company CEO Stefan Pierer.


The victory was also celebrated by the presence of Hubert Trunkenpolz, Head of Sales and Marketing for KTM who traveled from Sao Paolo Brazil, where the company has just opened its latest international subsidiary, to be in Buenos Aires to greet the two KTM riders. The 2011 Dakar, over 9500 grueling kilometers, was thrilling from the first to the final stage as the two KTM heroes battled it out for the top podium place. Coma and Despres have dominated rally sport in recent years and there has rarely been two riders who share such passion and skill when competing in the world's toughest rally. The company's success was further underlined by excellent performances by many other KTM riders who successfully competed in the 33rd edition of the Dakar Rally.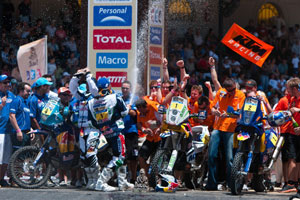 Marc Coma: "Many sacrifices to get to here"

"Staying focused was essential so I did focus on my riding. It was the only way to win. What was really tough was that I could not let my guard down, not even for a second. When a tough stage was ending, the next one was even tougher. We all know that a Dakar is a difficult race but this year it was particularly difficult. This victory is the reward of all the hard work, the reward of many years and a lot of tensions over the last few days. It is the bonus you get for steering right and for so many sacrifices over the years."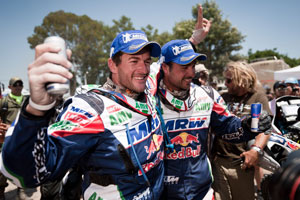 Despres, a fight to the end

At the end of Stage 13 Cyril Despres, the consummate perfectionist said he was sad he had not done better. "I made some mistakes, they were two small mistakes but they held some heavy consequences," he said. "This special is different if you are in first place as it was the case last year... then you want the race to be shorter. When you are second, you would want the race to be longer. But anyway, the feeling of finishing a Dakar is always nice especially here with all the people welcoming you. I am sad I could not do better. I have raced 11 Dakar, won three and been on the podium eight times. One more would have been great."


Following the tenth consecutive win for KTM, CEO Stefan Pierer announced that the company now intends to use the Dakar Rally as its major marketing platform as it enters a new and aggressive era of involvement in rally sport, including the development of the KTM 450 Rally bike in a production model.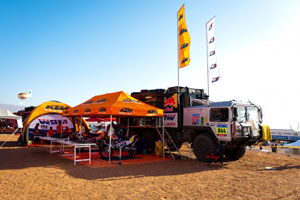 Stefan Pierer: "I am confident that this new bike is going to add yet another layer of prestige to our brand, following the unprecedented success we have enjoyed recently with other models like the 350 SX-F and the all new 350 EXC-F Factory. As well as developing the best rally bike on the market, we plan to introduce new and interesting packages for both rally teams and individual rally enthusiasts."

Mr. Pierer confirmed that KTM plans an aggressive involvement in rally sport both with the company's factory teams and with other riders and teams who are committed to the Austrian brand. "We want to see teams and riders from as many countries as possible competing on our bikes," he said. "Every KTM rider is a KTM ambassador - whether our own factory team, riders of other teams on KTMs and all the committed privateers who choose our machines!"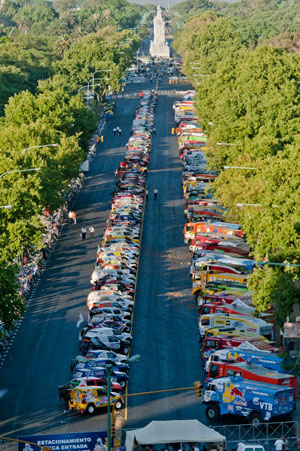 Heinz Kinigadner, KTM Sports Consultant, double 250 cc Motocross World Champion and former Dakar racer said the company can be very satisfied with the outstanding results achieved at the Dakar 2011. "We are justifiably proud of our two KTM factory riders and we are especially pleased with what they achieved on the newly launched KTM 450 Rally Replica. This bike was developed to provide an answer to the surprise rule change announced in mid 2009 that restricts professional Dakar riders to bikes not exceeding 450 ccm. We rose to the challenge and today it is clear that we have achieved our goal. The results speak for themselves."


KTM congratulates all riders who were courageous enough to tackle the Dakar, the rally that is at the very heart of this great sport

Final Results Dakar Rally 2011 Motorcycles:

1. Marc Coma, Spanien, KTM

2. Cyril Despres, Frankreich, KTM +15:04 min.

3. Helder Rodrigues, Portugal, Yamaha +1:40:20 h

4. Chaleco Lopez, Chile, Aprilia +2:09:45

5. Juan Pedrero, Spanien, KTM +3:07:03

6. Pal Anders Ullevalseter, Norwegen, KTM +3:32:56

7. Jean De Azevedo, Brasilien, KTM +3:59:38

8. Ruben Faria, Portugal, KTM +4:13:01

9. Quinn Cody, USA, Honda +4:52:10

10. Jacek Czachor, Polen, KTM +6:13:41

11. Henk Knuiman, Niederlande, KTM +6:26:46

12. Miran Stanovnik, Slowenien, KTM +6:31:49

Photos by Maragni M. KTM Images