Can-Am Commanders To Feature In 2011 Contingency Program
Chaparral Motorsports
|
January 18, 2011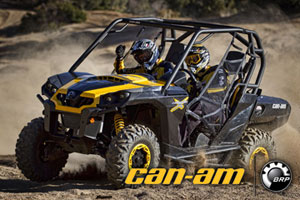 Bombardier Recreational Products (BRP), which produces the Can-Am line of ATVs and side-by-sides, has announced its plans to support a racing contingency program for the 2011 season.

The company estimates that it will pay out more than $1.6 million through its Can-Am X-Team Racing Contingency Program, a figure that it describes as "industry-leading." A notable feature of the program is that it pays cash, whereas most contingency programs offered by manufacturers pay in dealer vouchers or gift certificates.

This year, the program is expanding beyond the support for the Can-Am DS 450, Can-Am Outlander and Can-Am Renegade, ATVs which have been apart of the program in previous years. Side-by-side racers on the new Can-Am Commander 800R and 1000 will also be eligible for the program.

"We are excited to continue our support for both the professional and the amateur Can-Am ATV, and now, side-by-side vehicle racer," said Denis Morin, vice-president, Product Development & Racing at BRP. "Racing has always been an integral part of our DNA here at BRP, and we reward those who commit to joining the Can-Am family on the race track."

Those interested in the program should make sure their vehicle is registered by talking to their dealer or visiting the company's website.