Icon Sponsors Car Vs. Bike Drifting Competition
Chaparral Motorsports
|
January 14, 2011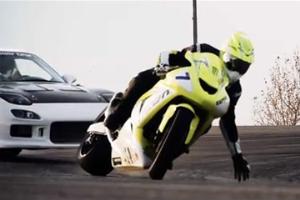 By now, most gearheads have likely heard of drifting, the "sport" where drivers get inside souped up cars and see who can slide around corners with the most style. It's usually thought of as a car-only event. But the folks at Icon, a motorcycle helmet and apparel company, recently proved that it's by no means limited to four-wheeled vehicles.

Teaming up with rider Nick Brocha, the company set up a "car vs. bike" drifting competition, reports Hell For Leather. Brocha, onboard a 2005 Kawasaki ZX-10, took on a Chevrolet Corvette in a drifting competition - with the Corvette breathing down his neck the entire time.

Before describing what exactly went down, riders should be aware that Brocha's bike was heavily modified to be stretched beyond its normal proportions, lengthening it's wheelbase so that it could safely drift. It also featured custom motorcycle tires and wheels. Brocha later told the news source that if he had been using a stock bike, it would have resulted in some "serious hospital time."

In the end, Brocha's Kawaski proved a bit more agile than the Kawasaki, easily maneuvering around both cones and corners. True, the Corvette looked awesome sliding around turns, but Nick's angled leans - including one where he nearly touches the asphalt with his gloved fingers - are just as pretty.