Riding Through The Elements
Chaparral Motorsports
|
December 28, 2010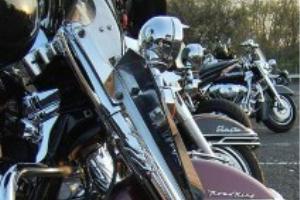 With a massive winter storm barreling down on the northeast, most riders are packing their bikes up and leaving them in the garage for the winter. However, a select few continue to ride year-round, which can be quite enjoyable - if a biker knows how to handle the elements.

It goes without saying that motorcycles and ice are not a good mix. Riding through a blizzard or on icy roads should be avoided at all costs. Once the snow and ice has melted and the roads are simply wet, most bikes will be able to handle the conditions, as long as riders keep a few things in mind.

According to Motorcycle Cruiser, braking can be one of the trickiest aspects of riding in tough conditions. Using too much front brake can cause the wheel to lock up and send a rider over the handlebars. It's best to keep steady light pressure, giving a bit more to the rear than the front. Of course, making sure the motorcycle tires are in top condition is also a priority for anyone considering a ride through the elements.

There are also some motorcycle accessories that riders may want to invest in to keep things a bit more comfortable. Bikers might be surprised by how easy a heated seat can make a long journey in the winter months, and a waterproof motorcycle jacket is useful year-round.