Pedrosa Launches Charity Children's Book
Chaparral Motorsports
|
December 24, 2010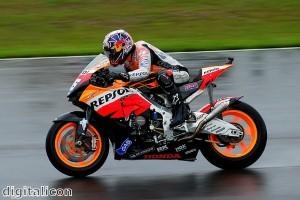 Many professional riders engage in a variety of promotional activities during the offseason. Dani Pedrosa decided to spend his time off helping to launch a children's book, which was recently released in Spain just in time for Christmas.

The book, entitled "Two Elves for Dani Pedrosa," combines fantasy with reality as it tells the tale of Pedrosa's eventual rise to MotoGP champion. The story begins with a five-year-old Pedrosa discovering a motocross suit under the Christmas tree left by two magical elves named Tim and Tom. This duo eventually helps Pedrosa throughout his career as they guide him to his goal of becoming one of the best riders in the world.

Pedrosa had some help in creating the book via writer Pau Joan Hernández and illustrator Jordi Vila Delclos. Two versions of the book are available - one in Catalan and one in Spanish. All proceeds will go to SOS Aldeas Infantiles, an organization that places orphaned children in stable family environments.

"Since a young age when I saw the races on television, my dream was to become a rider - and what began as a game has finally become my life," said Pedrosa. "All children have dreams and the most important thing is to keep trying to reach those dreams, however difficult they may seem. Then, the effort is also important because talent alone is not enough. These are important values you learn as a child."