Bostrom And Hayden Test For Michael Jordan
Chaparral Motorsports
|
December 16, 2010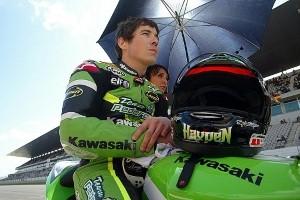 Michael Jordan Motorsports has garnered a lot of attention in the offseason - and not for its NBA legend owner. The AMA Superbike team cut both Jake Zemke and Aaron Yates loose while bringing in two veteran riders - Ben Bostrom and Roger Lee Hayden.

Both Hayden and Bostrom are coming off of disappointing seasons and will be adjusting to life onboard the Michael Jordan Motorsports Suzuki GSX-R 1000s, reports Sport Rider Magazine. That's why the team headed down to Jennings Grand Prix near the Florida-Georgia border to get some much needed testing time on the track.

Bostrom sounded like a kid in a candy shop when describing his early experience with the Gixxer. "It's cool. It's so fun having a new toy," he told the news source. "That's the biggest thing."

Meanwhile, Hayden said he was just happy to have a working bike, after a year onboard a Kawasaki plagued with problems.

"The electronics hardly ever worked," he said of his old bike. "You usually had to shut 'em off because they were a bigger pain than they were working. Hayden said he enjoyed "going to a test and not just staring at the clock, ready for it to hit 5 o'clock. I had a lot of fun riding. And just working with the team. We went through a lot of stuff and some stuff worked and some didn't. I feel like I got on well with all the guys straight away. I think it's a good start."