Vintage Motorcycle Museum Opens Along Route 66
Chaparral Motorsports
|
December 15, 2010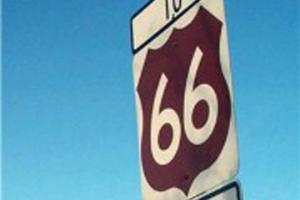 Many in the motorcycle community don't actually purchase bikes in order to ride them, but to instead showcase them as part of a collection. Unfortunately, few of those collections are ever made available to the public.

Two enthusiasts from Warwick, Oklahoma, are looking to change that. The Oklahoman reports that Gerald Tims and Jerry Ries have opened their own motorcycle museum on the famous Route 66, with Tims' personal collection of more than 75 vintage motorcycles as the main attraction.

This isn't Tims' first motorcycle venture - he also owns a local motorcycle store. Ries, while minorly interested in bikes, has a fascination with old buildings. The two had been pals for years, and eventually deduced that their mutual love for vintage relics could be channeled into a museum.

Yet the puzzle wasn't complete until Seaba Station went up for sale. This defunct gas station along the historic Route 66 was a mainstay for travelers in the 1920s and 1930s and is listed on the National Register of Historic Places. When Ries saw the "For Sale" sign, he jumped on the chance.

Now, the duo have fixed up the building so it can house Tims' collection and a smattering of Route 66 memorabilia. Some of the highlights include a 1965 Ducati road racer - one of 12 in existence - and a 1979 Triumph Bonneville that never left the box.

"It's never seen the pavement," Tims said. "It's kind of unique."